The inane and the gloating, part II: The Point, Dublin - August 23rd
hell, yeah! YEAH! YEAHHHHHHHHHHHHHHHHHHHHH!
soon after, this happened: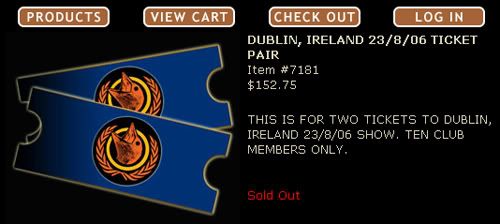 to paraphrase
ninie
, "
jangan jellesssssss
...".
hahaha
. why does it matter, you may ask? this is why:
"You will receive 2 wristbands with your tickets, which will allow the Ten Club member and a guest to enter the venue 15 minutes before doors open to the public. This will allow you to secure a spot as close to the stage as possible. "
oh well. now, how much do i need to pay for air fare...