Taman Tun Nasyid and Metal Fest!
it could've been that if we had a stage, sound system and road crew in front of our house. instead, we had five tents (i was very impressed with how efficient they were in putting these up and stripping it down post-reception) and about 10 catering staff milling about.
with the groom-cum-
kapla
organiser being at the bride's (well, wife) house, the groom's brother inflicted with OCD was left to oversee everything that day. it wasn't that difficult to keep the ship afloat but i knew it'll also take no effort to sink it! most of the minor things were done on the fly and i was well impressed with
trabye
. imagine getting one of malaysia's top mastering engineer from synchrosound to handle soundboard duties (he came at the drop of a hat).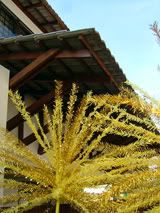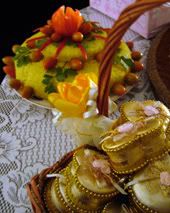 the caterers came early that morning and being the pros they are, all they needed was a site in front of the house to
bertanggah
and off they went. gone are the good old days of big family
gotong royong
(my colleague's family at mentakab still does this and i thought that was ever so cool). wave a few thousand bucks to a catering/
khemah
company and you get yourself a reception without lifting a pinkie. i simply don't know which is the better deal.
everything was in place. one problem was the absence of young relatives. young as in kids in the 9 to 16 age range. either they were old enough to be parents or young enough to wear pampers. you see, we had four
bunga manggar
s. easily enough, i had one of trabye's good mate who was in the guest list to do the job. the other
manggar
handler? yours truly, of course. these two weeks had been the time i had tried so many untried activities.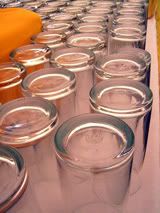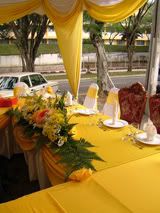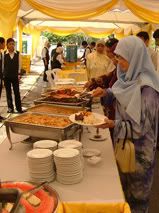 mr. OCD had his handphone ready and on the arrival of the bride and groom, we took off with two decorated broomsticks towards the
kontingen keluarga perempuan
. with a click of a handphone button, mr. mastering engineer started the
berarak
music on cue (behringer and wharfedale are two recommended companies for the job).
guests had already arrived an hour earlier everyone had their ixus-es and coolpix-es out on the
kontingen
's arrival at the high table. after a
doa
made by uncle ismail, it was
moh paruk
! i have to say the food was great (many a taman tun-ite would know of this sungei pencala-based caterer. highly recommended.). we had
nasi minyak, rendang tok, ayam masak merah
and a whole list of other stuff that i cannot recall. most importantly,
we had sirap
.
mangolisa
would tell you a thing or two about how i can be a
sirap
snob (connoisseur's too strong a word as there is not that much variety of
sirap
out there). they had orange juice in the menu but i requested
sirap
instead at the caterer's the other day. a
majlis kahwin
without
sirap
? sacrilegious!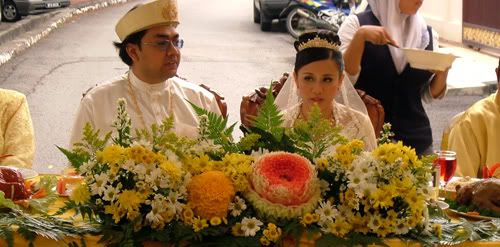 amongst the guests were a lot of people from the malaysian music industry. so, it wasn't just the catering staff that had their jaws dropping every time an
artis
arrives. people from both the nasyid and rock communities (hijjaz, saujana, metalasia, ali, zua xpdc) came, as well as songwriters, band managers and producers (greg henderson, helen yap, yasin). waheeda came and she even kindly signed an autograph or two. my aunts had a field day having their pictures taken with her. as for mr. OCD? well, he tried to keep his hand unwashed after meeting man kidal and yan. i still cannot sweep-pick, by the way. oh, well.
it was great to see some of my friends turning up, both from my a-level years up to the recently graduated guys from sheffield. again, like the day my folks got married in 1968, it rained like mad (
hujan rahmat
) but had a great time we did. i finally got to savour the food much later when the guests leave (but i managed to chug down 8 or more glasses of the red nectar during the greeting and the mingling).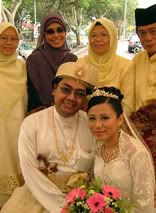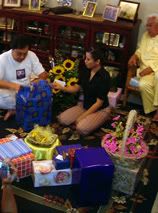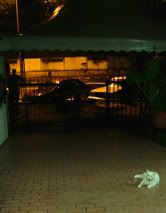 what can i say? i humbly think that this was way better than a hotel ballroom do. i remember talking to some friends who had receptions grander than queen elizabeth II's coronation. reasons given included the likes of
kalau tak ajak these people apa dia orang kata
. well,
orang
will still
kata
even if you prostrate down licking the soles of their shoes.
it felt this do was more personal and this is how it should be, and will be when the time comes.