Tiga puluh tahun
20 years ago - 1985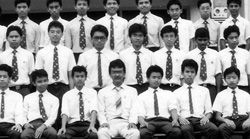 i was a third former in an all-boys boarding school in seremban. this was the time when you self proclaim that you are a senior among the puny juniors. this was also the year when i escaped a major thrashing by a bunch of fifth formers from a dorm in a neighbouring house. i can't for the life of me remember what the root of the problem was. and for some reason we knew that something was brewing that would possibly lead to the entire dorm being summoned by these
pailang
s. a mate of mine and i quickly filled in a
borang balik kampung
. we weren't taking any chances, even though the rest of the guys in the dorm felt nothing was gonna happen. come the following sunday evening, i got back from KL to see one of my dorm-mates with a face as large as house. what followed after that was a dismissal of the
pailang
s. a massive one too, i think that fifth form dorm lost like 25% of its population. permanently. preserving a code of honour among one's schoolmates, regardless? not this time.
10 years ago - 1995
hidup
grunge.
hidup
alt-rock and anything of its ilk.
vitalogy
came out. got the CD but i still had no
ongkos
for a CD player. this was the final leg of a half-decade of not having a life, aka medical school. group revision sessions which involved buckets of KFC (*
lalalala
*) and apple pie. which probably explains why nothing in this year really stick out in my mind. and as luck would have it, i got that pretty piece of paper with the four letters that fitted nicely behind my name. my folks came over for like two weeks and a bit for
the grand day
. the latter half of the year saw me earning enough dosh to buy me my first set of hi-fi separates so that i can now play my
vitalogy
CD, a
semi-rusty jalopy
and slightly niftier clothes that were not from C&A.
5 years ago - 2000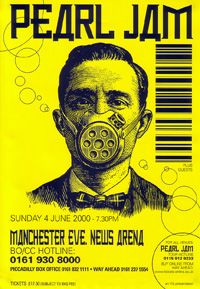 of the girl / breakerfall / grievance / corduroy / light years / go / given to fly / evacuation / even flow / daughter / animal / wishlist / nothingman / betterman / insignificance / rearviewmirror / last exit / once / black / timeless melody / state of love and trust / fuckin' up / leatherman / footsteps / do the evolution / garden / yellow ledbetter
june 4th, manchester.
and
this
. may you rest in peace.
3 years ago - 2002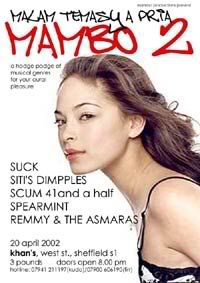 i co-organised a
gig
for the first time ever, with shahid and firr. it was on the evening of the sheffield sports meet which meant that
some
people just ain't too happy with that. i wasn't in the e-mailing list of the local grapevine which meant i was spared the e-mails shunning the gig, which was purportedly held near sheffield's red light district (
wow. we have one, do we?
). funny that. the engineering department, which is one of UK's best, is in the same vicinity. why don't you get the students to pack up their bags and study elsewhere while you're at it? the gig was aptly titled
malam temasya pria mambo 2
(no wonder eyebrows were raised as high the arts tower), based on the title of a gig held in a college in perak's royal town a few years back. we had five bands playing and it was easy to get them to come down all the way to play as the newcastle malaysian soc had its gig only a month before ours. we had lots of help from the newcastle and glasgow people with the loaning of their sabian cymbals and expertise in being front-of-house sound engineers. we charged like three quid for the tix. each band played a 30-40 minute set. the cost incurred wasn't too bad as i paid for the PA and bass amp rental (the guitar amps were ours and james let us borrow his drumkit) whilst shahid coughed up the dosh for the party room which was cosy enough to fit like a hundred guests. we had like 70 people turning up in the end, and i think between the three of us we got a tenner each in profit. which was fine by us!
Last year - 2004
to quote steven tyler, i was eff-eye-ann-ee - fine*. and like
idlan
, 無秩序のkrik の胃 was
born
. 'nuff said.
*
fcuked-up, insecure, neurotic, emotional
This year - 2005
i started
playing in a band again
. got my groove back. working my ass off (i think i am). looking forward for all of this to end so i can make a new start. and a well-deserved break at the end of it.
Next year - 2006
my new job. my new apartment. my new life.
10 years from now - 2015
sing that
doris day song
lah
.
__________________________________
mari kita lihat siapa yang kenaaaa!
i'm tagging
pick yin
(you
belum kena lagi kan
?
hehe
),
bluescrubs
,
delirium
,
sitinesta
and
sharizal
. don't look at me, blame
him
.