Moh makan!: Rizkee
another
moh makan!
entry. that's quite a few in a row already. i had the pleasure of attending the opening of rizkee sate and noodle cafe in manchester last night. it was a small affair yet the cafe was chock-a! i was going to write a little review but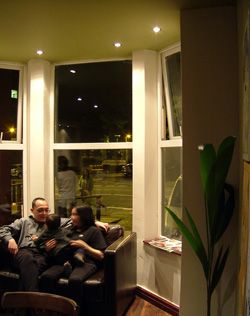 it will be a tad difficult to be impartial when the cafe is run by my cousin (i deserve a free bowl of
banh pho bo
every time i come over, eh sherry?
kasi tambah

noodle

lebih sikit

!
). with that disclaimer, i will now go on.
it's a simple yet lovely cafe. simplicity is pretty much a recurring theme at rizkee. on entering the premises, there is a softly-lit waiting area overlooking the bar. we were immediately ushered to our table. the rizkee menu was predominantly made up of south east asian noodle dishes and sate. some of us went for the non-alcoholic
aperitifs
. nik and farah had pina colada and sangria mocktails whilst nadim went for the
malaysia boleh!
, a shaken (not stirred) concoction comprising fruit juices, a dash of grenadine and 1 egg yolk.
we had
tauhu sumbat
and
popiah goreng
to kick things off. for the main course, i went for the
banh pho bo
with a side serving of beef
sate
. i have to admit, much to my embarassment, that i've
never
had vietnamese beef noodles before. i thought it was absolutely gorgeous and it will definitely be the main reason for coming back to this place! for vegetarians they also had a
kebab
-oid comprising carrots, green peppers,
fuchuk
and onions, all marinaded as you would meat
sate
. the amount of meat, per stick, in the sate was actually quite generous. it is quite difficult to genuinely replicate
sate
especially if you don't make it over a charcoal fire. as much as i commend the
sate
they served within the limitations of acquiring charcoal pits in this country, there can be room for improvement.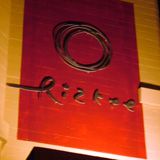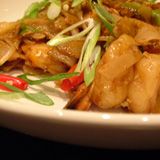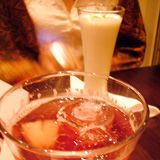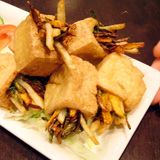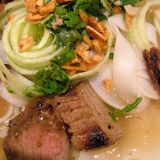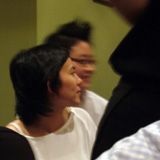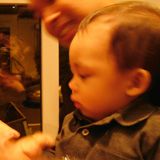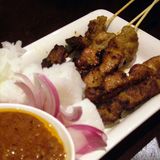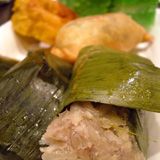 between the six of us, we pretty much tried to order across the board what was available on the menu. the
mee goreng mamak
(but i would recommend a slice of lime as opposed to lemon on the side!) and
char kuey teow
was lovely and they did not stinge on the king prawns. they were
kurang pedas
to cater for the more sensitive western palate and nadim recommended that we should order a side of
cili potong
with our noodle soup! everyone found the portions to be filling, except for yours truly.
hahaha
.
buruk lantak
and
makan ke daghah
were two terms that immediately came to mind. as this was literally day one, i wasn't going to be too critical of any hiccups. the service was a little on the slow side but it was worth the wait and none of our orders were missed.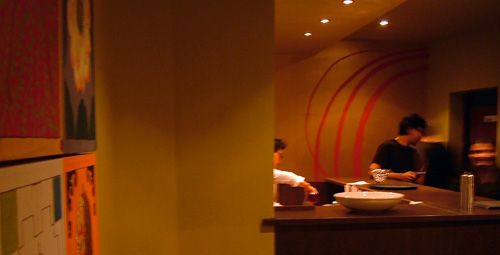 for dessert, we had the delightful
talam
of
kueh
s (a variety plate consisting of
seri muka
,
lepat pisang
,
kueh keria
and
karipap
). i was dismayed that the
sago gula melaka
(my favourite at deli-Q in KL) was not available. next time, then. all these were accompanied by
teh tarik
. for the more sophisticated, there are cappucinos and lattes available. sorry
lah
.
gua makan
malaysian,
gua minum pun misti mau
malaysian.
all in all, i had an enjoyable evening and i was well impressed with what they had (and did) on day one. despite the odd criticisms i mentioned earlier, i am sure i will see further additions and improvement the next time i come for a meal. it is a great place especially if you are NHS staff as they do regular NHS discounted deals on a monthly basis! highly recommended if you are ever in manchester.
_____________________________________
RIZKEE sate and noodle cafe
30A manchester road, chorlton-cum-hardy, manchester M21 9PH
closed sundays
0044 161 860 5353 (for reservations)
www.rizkee.com