Moh makan!: Chilli
this is great to make if you run out of options, especially if you leave the local yemeni grocer-cum-butcher without a single king prawn or chicken breast fillet in hand (this entry was supposed to be on
mee yoke
). got this off one of my jamie oliver books. one thing i've learnt about making
mat salleh
versions of anything (supposedly) hot is to
not follow the recipe
.
hahaha
. all right then, follow it but it won't hurt if you double/triple (without overdoing it) certain ingredients of the recipe.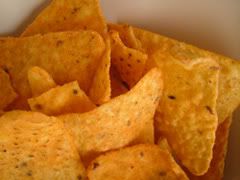 chilli is best eaten if it was cooked the night before as the meat flavours just seep into the sauce. i had no choice this time but to cook it while leaving my friends in the lounge chatting / watching telly / installing an audigy 2 ZS soundcard, sipping chilled canned
cincau
(
yang memang bukan rasa macam lancau
). also, i left them some corn chips (
aka doritos
) and fresh home-made salsa, for them to munch while they wait.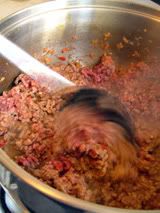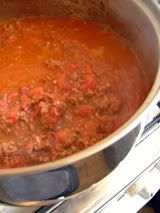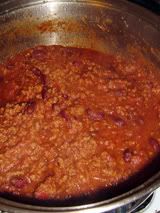 blitz two large onions, a couple of garlic cloves and
cabai merah
(
kasi dua
), sautee the mixture and add the minced beef. now, beef is way better than lamb/other
kambing
for chilli, this i can attest. two teaspoon measures of chilli powder were recommended in the recipe. not today, man.
gua kasi belasah
five, i think.
pandai-pandai lah
. hahaha. none of this woosy schwartz type, it's
cap burung
something or other. season and chuck in one or two cinnamon sticks into the mix. after a few minutes or so when the meat is brown, add a can of chopped tomatoes (i don't know if it's just me, but i really think the ones from waitrose is the
dog's bullocks
[
sic
]). get some sundried tomatoes in olive oil (great with mozzarella, basil and pesto as a
panini
), blitz like half a cup (
lebih takpe
) and add that as well. cook for like an hour. after 40 minutes, chuck in a can of red kidney beans (drained).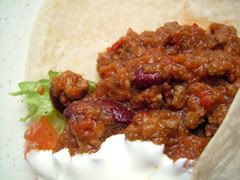 serve with rice. you could also make tacos with it so i bought some tortillas. add some salad, sour cream and
jalapeno
chillis, you could pretend you are having your lunch break at the
fullerton
fender factory like they did in the 50's.
oralle!