The Slug and Lettuce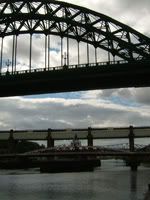 due to overwhelming and popular request (from
one
reader -
you know who you are
), i've finally got a food entry. i was up in the north-east a couple of days ago, visiting pinkfrog and
delirium
for some catching up over sunday nosh-up.
pubs in britain have really strange names sometimes, like the dog and parrot, for one.
the slug and lettuce
wasn't your traditional english pub but more of a chic eaterie, which is part of a nationwide chain. i've seen their branches in manchester and nottingham but haven't actually tried them. the newcastle one is quite big and there weren't that many patrons. i guess it pays to arrive early for sunday lunch.



the selection available was typical of the upmarket chain restaurant. i guess if you've been to one, you've been to them all. simply variations of italian and british cuisine. i opted for the tempura battered
hake
fillet with chips, tartare sauce and mushy peas,
aka fish 'n' chips
.
hahaha
. the hake was delightful although it still was just as nice as the haddock they serve at the old north shields joint i used to frequent, albeit less oily and a tad more expensive. tempura or not, i couldn't tell the difference with regular batter.
pinkfrog and delirium both had the butter-baked smoked haddock which was topped with asparagus and a poached egg, served together with some spinach and new potatoes. the haddock also came with a lovely lemon/garlic butter sauce (evil but nice). i am not that much of a fan of smoked fish. pinkfrog felt that it was a tad salty on its own but having it with the 'tatoes evened the flavours out a bit.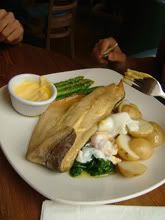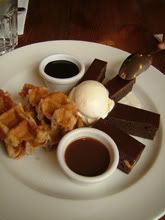 for dessert, all three of us shared the warm cinnamon waffle and choc fudge brownie, served with vanilla ice-cream and toffee/chocolate sauces to boot. now that was simply divine, although the serving was a little sparse to share between three people.
lovely food, service and atmosphere, but nothing out of the ordinary. recommended.