We didn't start the fire... or did we?
a long time ago in 1871, HH sultan ali al-mukammal inayat shah, the sultan of perak died. my great-great granddad, YM raja abdullah ibni al-marhum sultan jaafar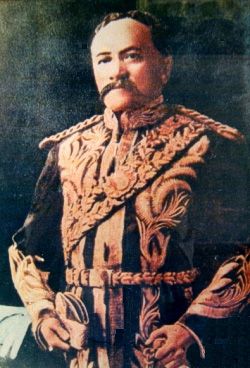 , who was then the
raja muda
would have been the new sultan if it wasn't for the subsequent coronation of HH sultan ismail muabbidin shah. as
raja muda
, great-great granddad was supposed to be sultan, and rightly so, according to the traditional system of the perak
raja
s. at the same time, great-great granddad wasn't too happy to argue his case with the other
raja
s because in order to do so, he had to pass the area of sayong, the stronghold of one raja yusuf and his sons, who also wanted to lay claim to the throne.
it was also a time of turmoil in the larut region. larut is rich in tin (legend has it that a runaway
gajah
that was found by long jaafar had mud all over its legs - mud which was rich in tin ore.). i'm sure you remember from your
sejarah
lessons in school about the ghee hin vs. hai san secret society war. to paraphrase
blackadder
's daft side-kick, baldrick, great-great granddad then had a cunning plan.
he wrote a letter to sir harry ord, who was then british governor of the straits settlement
in singapore (later governor of western australia), asking for help. unfortunately for great-great granddad, sir harry felt that it wasn't in her majesty's empire's interest to meddle in the affairs of the
orang melayu
. however, when sir harry left in 1873, the new straits settlement governor, sir andrew clarke, was, should i say, more helpful in response to great-great granddad's request for intervention.
the help didn't exactly come without a price, though.
great-great granddad would be sultan with the
quid pro quo
agreement that the british will appoint one james wheeler woodford birch as the resident who would advise him on administrative and taxation affairs, short of
hal ehwal orang-orang melayu
. on top of that, great-great granddad had to also pay birch's salary. the cheek!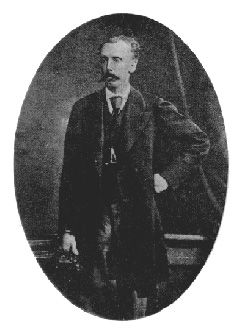 the agreement between great-great granddad and the british was signed on board the HMS pluto off the coast of pulau pangkor on january 20th, 1874. great-great granddad was now HH paduka seri sultan abdullah muhammad shah II, whilst sultan ismail was deposed. and as everyone knows, the people of perak, led by datuk maharaja lela, weren't exactly too chuffed with the meddlesome ways of birch. birch was assasinated in pasir salak in 1875 and great-great granddad was sent into exile to the seychelles in 1877. raja yusuf (of sayong fame) was then made sultan.
soon after, the british empire began to take interest in the other malay states and the rest is, of course, history.
would malaysia be different if great-great granddad didn't write that letter to singapore in 1871? i guess the british empire would have come into the picture anyway, later if not sooner. with them having a stronghold on penang, malacca and singapore, i say that it was inevitable that the british would come.
and who knows what would happen if raja abdullah decided to chuck the letter asking for help into the muddy waters of sungai perak? the picture that was the history of malaysia under british rule would have been painted differently, although probably no less volatile than what it already was.
selamat menyambut kemerdekaan 48 tahun, malaysia
.
______________________________________________________
i read with interest
an article about a hawaiian tune being similar to

negaraku
in today's issue of the star.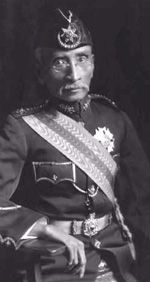 negaraku
was adapted from the state of perak's official anthem. the story went that when HH paduka sri sultan sir idris went to england to see queen victoria, the palace officials wanted to know if perak had a state anthem. my great granddad, raja mansur ibni sultan abdullah, who was the sultan's
aide-de-camp
, simply hummed the tune of
terang bulan
to the bandmaster, which he had listened to in the seychelles, played by bands in the gazebos. according to this
site
, the tune was a then popular french melody composed by pierre-jean de béranger.
this is why i got so incensed when some bright spark decided to change the anthem to a march beat a few years ago. thankfully,
negaraku
is back to what it was before. the original anthem was majestic (like
god save the queen
-
okay, not the sex pistol's take

lah

!
), and in no way
lembab
.
just what were these people thinking?