Pigs have flown...
...pink floyd reunited at live8.
-
seen on a banner this evening at the hyde park gig
as the who was playing, my eyes were glued to the telly.
the
pink floyd was next, with roger waters, after 21 long years. after a little chatter by jonathan woss, the unmistakeable heart beat prceding
speak to me/breathe
was audible from the stage.
david gilmour has aged since the last VHS i saw him in, which was the earls court gig following the release of
the division bell
.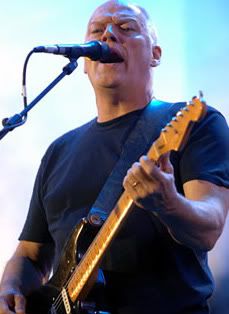 gilmour started off with the pedal steel intro whilst roger waters seemed back at home with his black precision bass. nick mason looked like he just came back from a PTA meeting at a boarding school in dorset whilst richard wright quietly plays on the kurzweil. i have to say, whoever the director of videography/photography/whatever is, rick wright
is a member of the band
. he is not a hired hand, so you should have had more shots of him! however, kudos for panning to battersea power station and the (?)london eye (which looked like the ubiquitous disc-shaped screen seen at their live shows).
as
breathe
got into way, gilmour picked up a black strat similar to the one he used in the days of
the dark side of the moon
. the next song was an apt choice for the event, with waters' unmistakeable bassline intro to
money
accompanied by the
ka-chings
! gilmour's bluesy solo was so out of this world. he used his hiwatts. obviously
lah kan
?
waters then proceeded to express his happiness for being back with these "three guys", and dedicated the next tune to syd barrett -
wish you were here
. gilmour played a gibson acoustic whilst waters had a martin. tim renwick was on bass duty then. it was really great watching them back together. there was this poignant shot of gilmour smiling to mason whilst waters sang the second verse (gilmour sang the entire song on the album).
the last song was a
tour de force
with both waters and gilmour on vocals. they played
comfortably numb
, man. they playfully lifted their arms as they sang
"my arms felt just like two balloons"
. again, gilmour did his magic on the strat. i remembered my friend telling me how underrated gilmour is as a guitarist. the outro solo was just soulful, ending with a
"thank you and goodnight"
from gilmour. the four of them went up to the front of the stage and took a bow. no tearful hugs, though.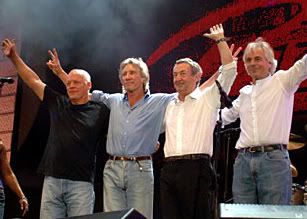 a potential proper reunion gig at earls court? just have to wait then, haven't we?