No Stairway? Denied!
whilst reading the forum on
i-bands
, one of the guys posted some pics of this person.
jimmy sakurai.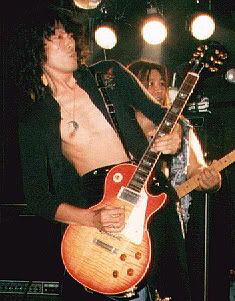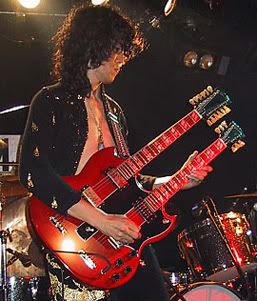 i couldn't help but stifle a chuckle, but sakurai or not, he does look like jimmy page bar the asian features. he nailed the hair,
clothes
and the
guitars
(i am not sure whether jimmy played the strat in his heyday, though). i googled jimmy-
san
to find out that he is in a led zep tribute band aptly named, err...
mr. jimmy
. apparently he started playing some led zep covers at an american army base in japan and had been performing as a led zep tribute band ever since. he was even voted '
Best Jimmy Page Player
' (pardon the japlish) and contributes to various japanese guitar mags. the english section of his site also advertises his services to anyone needing a' jimmy page' for their band.
no, ladies. i don't know if he does hen nights.
the
australian pink floyd
is another tribute band but living up to its name. especially if you get to perform at david gilmour's 50th birthday bash and get to use the same stage production equipment as pink floyd! rumour has it that roger waters was in the crowd when the aussie floyd played at the royal albert (again, another first for a tribute band). my workmate got to see them live in sheffield arena last year and said the performance was top notch. they don't look like pink floyd but they sure as hell sound like them. the lights weren't as elaborate but they apparently have a similar disc-shaped screen at the back. another date in my gig diary. they will be coming to these shores but they'll be playing some festival in derby (
uhuh
). i'll wait till they play like the city hall or something.
i also hear that there are also a few more tribute bands worth watching, like
bjorn again
(also from australia),
the bootleg beatles
(the longest running and most successful tribute band ever with rave reviews to boot!) and YYZ (a UK-based rush tribute band). i have written about
this
a long while back, about how i loved performing tribute sets (i've done one megadeth and two pearl jams - the
second
pearl jam set was the best one ever, if i should say so myself). i guess i do it out of reverence and, most of all, enjoyment of playing the music i love.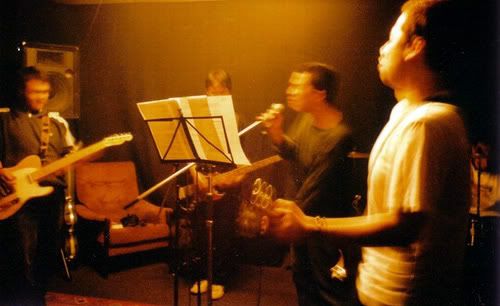 being in a tribute band has its shortcomings though. it'll work better if the original band is no more. only a handful of tribute bands make it big by being able to tour the world, but you won't be able to sell records. most tribute bands would be doing the local pub circuit rather than selling out the madison square gardens or the budokans of the world. people like myself would probably like to play the odd toilet circuit and even if i get to do so, i need to remember not to leave my day job.