London disaster
i got to know of this from an SMS at 1050 hrs GMT from the neon in KL, of all places. i've always had this kind of scenario played at the back of my mind every time i take the tube when i'm in the smoke. in the 70's and 80's, it was the IRA. now, this (no one has made any claims as of yet).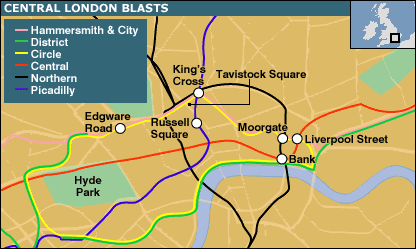 a few of my colleagues were shocked but probably the shock was not as bad as it was when the two jets collided with the twin towers in NY. bombs had gone off in london (like harrods, for example), brighton and manchester. and not forgetting northern ireland for the last few decades. this may explain why my british work mates appear to be 'not that phased' by what happened this morning.
this was expected. the tube is a target which all of most know is vulnerable. every time i use it, i'm sure deep down in my heart, i say a little
doa
. anything can happen anywhere. any time.
my prayers are with the injured and the family of the dead (the count is two at this moment). and to all in london, stay safe.
__________________________________
thank you for the kind wishes in the comments box. please go to the
bbc website
for further updates.