Ol' black eyes is back.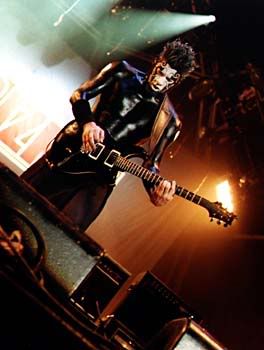 they
are back. back with good ol' mr. borland. the band was just not the same without him. imagine the 'stones without keef or aerosmith without joe perry. heck, just look at G'n'R (shame on axl for still calling the band that)!
the new material sounds rawer. sounds like they were recorded live. gone are the hip-hop leanings. can't seem to hear dj lethal. in fact, where is dj lethal? the guitar tones are more guttural. at times, the stuff is reminiscent of those in the
three dollar bill$, y'all
album. wes doesn't seem to do any fanciful effects-ladened guitarwork this time. his trademark whammybar work is there though. lyrics are somewhat catharrtic. just listen to
the channel
.
the unquestionable truth (part 1)
is a little on the small side, song quantity-wise. sounds big. let's just see where fred
et al.
are taking us with this.
most importantly, great to see you back, wes!