Lelaki mana ada langkah bendul, oi.
this is a new experience.
as a kid, i've frequented places like ipoh and taiping for family get-togethers, most of which revolved around weddings of cousins (most of my cousins are old enough to be my folks). being from a typical nuclear family, today is the first time one of us finally decided to settle down. and what an affair it was.
i arrived in KL on april fools' friday, only to be told that my job involved the DV camera. fine by me as i won't forgive myself (and neither will the family) if i dropped the
sirih junjung
or
tepak
, let alone the best
kek coklat kukus
known to (wo)man. my aunts from perak were basically sorting out the gifts and it was then that i learnt a few things and then some. i was simply amazed to see how efficiently they work. getting a
tepak sirih
decorated was like second nature to them as they chatted away. being a typical pathologist, the first thing that went through my mind when one of my aunts were cracking the areca nuts open was, "... hey, that's a sign of congestive cardiac failure (nutmeg liver)". the gambir was carved and the betel leaves cut into shape. and i learnt that within the box was rice with some money. money that amounted to the obligatory
x
RM and
dua kupang lima duit
. the gifts were then placed on
talam
s which had a lavender theme overall. the malay royal colours were replaced by another's.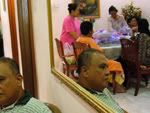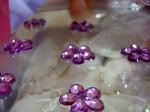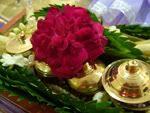 the best thing of all was that this atmosphere was not exactly foreign, only that it never happened within my own family. i could imagine my late mom fussing over the whole affair decorating if she was still around. being older now, i enjoyed the banter and jokes (lewd ones sounds really bizarre if they come from your aunts!). and when there was family, there was food.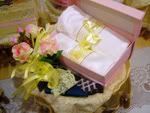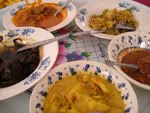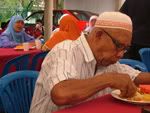 on the morning of the engagement, we had
nasi lemak
. yes, after a
roti telur-teh tarik
brekkie sesh. and this was after knowing we'll be eating at the house of my brother's fancee. fitness first, here i come. during breakfast, my brother gave a little
taklimat,
short of synchronising our watches, on how to get to keramat together and on time. i'd thought it'll be so much pressure but i've to say that, alhamdulillah, everything went right like clockwork. no
janji melayu
s here (my dad takes pride in the fact that on his wedding day, "
pukul 2 dah terpacak dekat depan rumah
"). go figure. we arrived on time and we were given the warmest welcome any family could receive. the whole affair was brief and straight to point. my uncle played the role of the wakil on our side. he did great even when he almost forgot his own wife's name during the introduction part of the ceremony.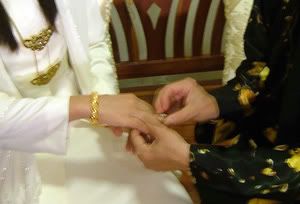 dad shed a tear when my aunt slided the engagement ring onto the finger of the future new member of the family. of course, after the photo-taking session, it was
paruk
time under the marquee. we helped ourselves to some lovely
kenduri
food with my all-time favourite drink, the
serbat
.
on my wedding day (whenever that'll be), the serbat has to be a tad pale (preferably red, although i don't mind green) yet still retains the sweetness of a full on serbat with a subtle hint of pandan essence.
mingled with the other side and they were a lovely bunch, as we felt right at home.
as expected, when your younger brother is the one getting engaged/hitched, i prepared some stock answers, along with a smile (no sheepish grins), to the barrage of "
abangnya bila lagi?
".
good question, though.