Laporan kotaraya:


the shopping mall.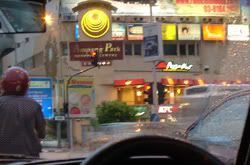 they are everywhere, as for a lot of malaysians, the mall is such a necessity. everyone has their own favourite. one mall that i used to frequent as a kid in '70s bangsar was ampang park. my dad told me that it was the first ever mall, or shopping complex rather, in kl. in those days there was also the weld (which shut down only to be reopened as a more upmarket version in the early 90s) that had a cold storage supermarket. to those who could really remember, near the weld was a supermarket called fitzpatrick's and on jalan mountbatten (now jalan tun perak) was this departmental store called robinson's (where i got my first ever crayon set). i'd say that we malaysians started early in the shopping mall department.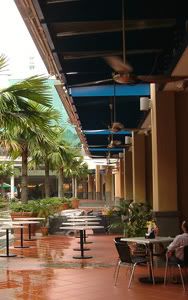 today, malls are sprouting on every available land space in kl. i was just at the curve today when i thought to myself that it's bad enough ikano is just next to it, not counting the much lauded one utama (a surrogate klcc suria for taman tun-ites, and i don't care if people do think that we are peghak - ie people-under-tempurung types - for not having to venture out from an area with a two-mile radius), i saw the kopitiams (one of which was reviewed here) and a small potpourri of western eateries. the only one that caught my eye was the marche movenpick. i first saw one of these in amsterdam where you literally could select fresh produce only to have them cook it any way you like. pity i was too kenyang from the ikano foodcourt yakitori combo to try it out.

during this short break, i find myself gravitating to the malls of my yesteryears, the bukit bintang and sungei wang plazas.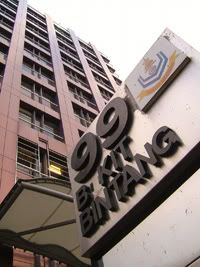 how can i not be there if it wasn't my for my recent obligatory IT purchases at the ubiquitous low yat tech shops. in its heyday, sungei wang boasted an ice-skating rink on one of its floors. ella once held a gig on the plaza rooftop. our family for some bizarre reason, would opt to have our occasional KFC meals there of all places. the adjoining bukit bintang plaza, on the other hand, had one of the first metrojayas. in those days, the lure for me was solely the kenner star wars action figures. today, despite of their less upmarket nature as compared to even their next door neighbour, lot 10, these malls are still thriving. there are clothes galore which are cheap and chic. i was shown a place where you can buy clobber cool enough for onstage live music performances. no need to buy dolce and gabbana to look like jon bon jovi one aaa. there were loads of tourists, as i'm sure they find the more sterile and upmarket stores at klcc too similar to those found in london, sydney or new york. i also find the jinjang hairstyles not too jinjang nowadays. hell, i'm sure you can get one of those jinjang cuts at toni & guy. pirated stuff (dvd and ps2 games) today were sold pretty much more in a cloak and dagger style due to daily operasis by the ministry of trade and commerce.

another place that i will never miss to visit is the good ol' pertama complex. when i was in school, i could get original imported rock tees at a shop called oazy for like fifty bucks. the things you wear to achieve some level of respect at school (tee shirt tak double sided tak main lah). pertama is notorious to get pau-ed (mugged) so we usually travel in packs then.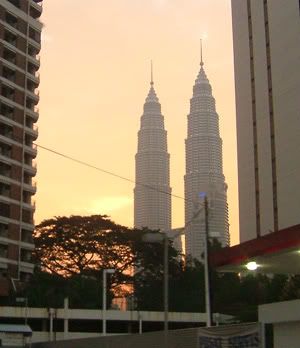 now, i come here to get my regular supply of local alt-rock act cd's at victoria. the selangor camera shop on the ground floor does good deals too, ask for johnny teh (you won't miss him!). and where else can you get a RM5 jeans alteration service? food-wise, despite the dingyness of the food court, i think they have one of the meanest ice kacangs in town.

i did go to klcc, just the once this afternoon for dinner. had the typical empat ringgit setengah food court hainan chicken rice (can lah). dropped by kino and bought some books by hamka and ahmad patria abdullah despite the fact that i have a shelfload of stuff i still haven't read (see my current book on the sidebar - like how long it's been there?). i like the place but i do find that i don't really go to KLCC that often when i am home in KL. probably i'm exercising my taman tun peghakness.
_______________________________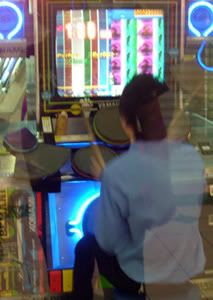 there were a few of things i saw that i'd like to share. one, is this cool drumming game analogous to the dancing one, also by konami. cool or what?
this guy was blazing, getting perfect scores all the way. the next neil peart? not.

--------------------------------------
the novelisaton for episode iii is out on hardback. saw it in kino. i find it easier in this day and age to exercise some restrain. i will wait for may 19. gosh, i remembered as a 13-year old reading the return of the jedi novel, during prep, before the film came out, going, "yes! i knew that darth vader is luke's dad!', and, "what? leia is luke's sister?!! ewww!". and i don't really want to how in how many pieces is obi wan gonna chop lil' annie into.