Kalingga Traffic
"It's been too long. The (jazz) world needs it. The (jazz) world needs us."
-The Neon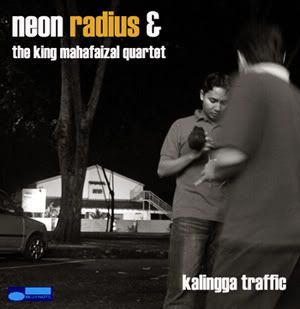 "
Comfortable in flannel pants and a t-shirt with a trout emblazoned across the chest, Lmsn Rds gets mentally situated for the oncoming barrage of questions. The hottest jazz property since the decline and eventual demise of the great Miles Davis, Neon Radius braces themselves for scrutiny.

Sitting quietly in the corner behind a chestnut-coloured piano, The Neon seems to be lost in a cool trance, squeezing out sweet lines from the wooden behemoth.

"Don't try to start him on a conversation. He'll be a downright bitch. Let him just play", quips Lmsn with a cynical smile.

As yet unreleased, the band's second single has managed to cause somewhat of a stir amongst jazz enthusiasts thanks to the exclusive previews to A&R execs and the press. This time around, the band comes full circle with the inclusion of Kudo Shanker and Albert Bakansing, who, along with King Mahafaizal and The Squid, makes up new The King Mahafaizal Quartet.

"No boundaries. That's what this is. Geographically and musically. He (Shanker) flew in from Sheffield and we did it in just one take, y'know?"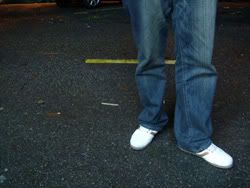 Backed by the usual suspects from their blistering tour-de-force debut single Just A Miles Away, the inclusion of Devi on vocals provided the much needed spark this time around. Her haunting, sultry voice speaks with unparalleled intimacy. Of course this is not to downplay the contribution of Albert Bakansing, a Sabahan native whose unadulterated mastery of the semputon brought to the table a feeling of primitive freshness, never before done in a jazz setting.

The feeling that one might get from the first helping of Kalingga Traffic is one of chaos. Not unlike its predecessor, Traffic is awash with cadence.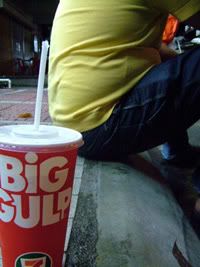 But underneath this, what some might deem, massive overkill, there is also honest delight. The reason for its title is obvious as these men attempted to document the hustle and bustle of Kalingga in the form of a 4-minute hot, tight aural package.

"I played this 1950's acoustic, which belongs to Shanker's dad. Y'know, the kind with a zero-th fret? They don't make 'em like that no mo'. All through the track, I kept thinkin' 'bout all them peoples who had played the guitar. It's got a legacy… heritage. A bit like jazz", reflected The Neon on his way to a makeshift bar, abandoning the piano-tinkling for a glass of milk.

The track starts out with The Neon asking someone (the name seems to have been reversed on tape) to drive them. Well, maybe Neon Radius & The King Mahafaizal Quartet should take the driver's seat and drive jazz out of its gloom. By the looks of it, I think they are doing just that.


- Jazz Cuisine Monthly, April 2005"

_______________________

Kalingga Traffic by Neon Radius & The King Mahafaizal Quartet
©2005 Karya Merah Mentari

Lmsn Rds - electric guitar
The Neon - acoustic guitar
King Mahafaizal – bass
Kudo "The Shaker" Shanker – percussions
Jess "The Squid" Terr - drums
Albert Bakansing- semputon
and featuring Prakash Mahaganja on the tabla and Devi on vocals