The list
lisa
requested that i list out this roll call of favourites, since both of us share a common love, i.e.
makan
. it's a little long and there's suppose to be this curse if i don't,
yadda yadda
. i'm not superstitious but then again i'm suffering from blogger's block. must be the cold.
favourite: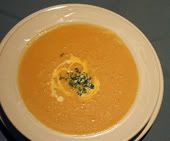 1. main entree: steak (medium, any old)
2. salad: any green thing but cucumber or celery
3. soup: lobster bisque
4. appetizer: deep fried calamari
5. dessert: plain vanilla cheesecake or choc fudge cake
6. fruit: mango
7. vegetable: the humble green pepper
8. sashimi: i only go for the lame non-raw ones they have here!
9. sushi roll: maki, nigiri, california rolls... i love 'em all
10. soda beverage: diet coke, plus minus the vanilla
11. non-alcoholic beverage: ayaq tebu
1
2. alcoholic shot: never tried shots *lalala*
13. alcoholic drink: ana tak minum lah, ish ish ish
14. cake: see number 5
15. pie: plain apple pie, with custard
16. ice cream: pralines and cream (HD) or choc fudge brownie (B&J)
17. milkshake: chocolate, McD's or Hard Rock Cafe
18. cut of beef: not particular, but i'd love to try filet mignon, thus tenderloin
19. cuisine: Malaysian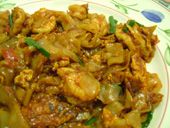 20. part of chicken: breast
21. fried food: char kuey teow
22. cookie: choc chip, preferably home made or Famous Amos' (predictable or what)
23. indian curry: chicken karahi
24. gum: airwaves
25. candy: kit kat
26. crepe: appel pannenkoek
27. sandwich: fish fingers or corn beef on plain white... heaven!
28. pizza: sloppy giuseppe was the bomb in the old days (ahem!), now it's the cajun (both at
pizza express)
29. mexican dish: fajitas, what else?
30. vietnamese dish: never tried
31. korean dish: anjing panggang. kidding! see number 30.
32. chinese dish: lemon chicken
33. filipino dish: see number 30
34. southern food: jambalaya
35. instant noodles brand: maggi
36. juice: orange, mixed with apples or cranberries, like at wagamama
37. snack food: Kettle chips
38. fish: bawal putih (malaysia), trout or haddock (england)
39. cereal: Special K (i'm such a big girl's blouse)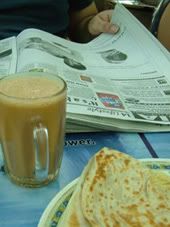 40. pho: see number 30. again.
41. breakfast food: roti canai or nasi lemak, gua happy!
42. french food: steak with bearnaise sauce (french enough aa?)
43. mcdonalds food: A.L.L. O.F. T.H.E.M.
44. pasta dish: spag bol, i'm a simple man!
45. bread: brioche
46. tea: teh tarik, none of this earl grey or lapsang souchong nonsense.
47. 7-11 slurpies: the cola one. wait, that's an ICEE. nope, never had one.
48. hershey's kiss: almond
49. flavor of m&m's: peanut
50. candy bar: see number 25