Midnight movie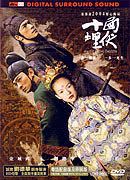 shi mian mai fu
was not a bad film. well, not as good as his previous
wuxia
debut, but zhang yimou impressed me yet again. i was supposed to have gone to see it on the big screen, but i was reminded of two reviews (one of you knows who you are.
hehe
.), one of which slagged it big time. i have to say, however, this is a zhang yimou film, and not one by yuen woo ping. i used to watch yimou's older stuff like
red sorghum
(the one where wine tastes so much better when piss is added in the fermenting process. really.), along with films by chen kaige, another great director. these were the days when i lived with a housemate who was so into world cinema. so, don't expect
wing chun
here.
the story's about two medieval policemen, one of whom (jin, played by
onimusha
's takeshi kaneshiro) took the task of infiltrating the robin hood-esque posse that calls themselves the house of flying daggers, by charming mei, a blind assassin-cum-dancer (played by the delectable zhang ziyi).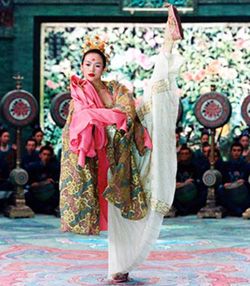 most of the film shows how jin's relationship with mei develops whilst escaping north, followed closely and stealthily by leo (andy lau), his partner. there are little twists to the story, where in the latter third, we see a similar scenario to that of infernal affairs (which also starred lau, playing a similar role somewhat), which i had the pleasure of viewing three nights ago. the fight scenes were not as spectacular as those seen in hero (
ying xiong
), but watch out for the one among the bamboo trees. also, there's quite a bit of CGI trickery here but i'm not complaining. no pandas were harmed in the making of this one, i hope. whilst the story may seem a tad slow, i felt the flow was correct for what yimou was trying to convey. the action was sparse yet spectacular enough to keep any kung fu buff entertained. both music (by shigeru umegayashi) and cinematography, as usual, were spot on, although some scenes looked a little salem high country at times (some parts of the film was shot in the ukraine apparently). another thing, takeshi kaneshiro is a little bit
kayu
. like this one matrix chap.
i enjoyed it, surprisingly enough, despite hearing bad things about it. it's not crouching tiger hidden dragon, but for what it's worth, it's a film worth checking out.