Gagak hitam mencari pasangan di reban ayam
it's easter term. or lent. or spring, even, depending on the institution of learning that you are attending. my student days are long gone, yet this is the time of the year when i get to hear announcements of
come to our malaysia night!
, from student mates or blogs. for those of you who are still studying/had studied in britain, you know what i'm talking about.
the malaysia night has evolved in a big way since the time i first came to this country. in the early 90's, a standard malaysia night fare would consist of several cultural dances/a fashion show of the various races/traditional costumes we have in malaysia,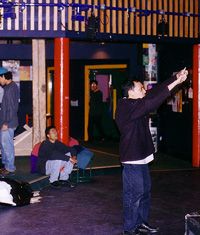 a short sketch based on malaysian/the malaysian student life, a band and the obligatory wedding on a
pelamin
. if you were a serial malaysia night attendee, you get to see the same
TDC
-sponsored costume in
every
show you went to! different universities do their malaysia nights differently. some would have a simple buffet-style
makan
on paper plates, followed by simple performances and then a disco (yes, i'm
that
old). well, they knew what the punters want, so a disco it was!
others would have the event more elaborately planned, where it'd be an ostentatious black tie affair, complete with meals served on the high table (
buffet-buffet tak main eh
) and a VIP guest list that would've included the DYMM s.p.b.d.p. Agong if they could. the cultural night would usually be a play with the dances interwoven into the storyline, which may be written originally for the evening or loosely based on malaysian folklore (
hang tuah
,
hang kebun
, we've seen them all). i preferred the ones where not a single modern/western element was present in the performance. as a purist, i firmly believe a malaysian cultural evening should convey just that. malaysian culture.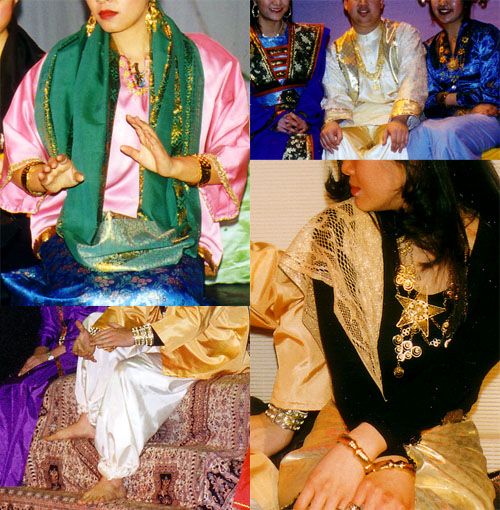 in the UK, a few universities do stand out when their malaysia nights are concerned. in my younger days
(*uhuk uhuk* ini macam boleh kena tibi)
, we loved going to the nottingham one. the reasons were three-fold: one, most of our friends were there; two, it's centrally-located; and three, the chicks were usually of the
paraparapeewit
variety (
still is, i hear
). the more popular malaysia nights tend to maintain their reputation as it'll be easier to obtain sponsorship and to have the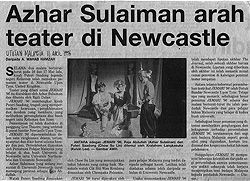 YTM High Commissioner of Malaysia to add the date on his diary. it also helps if you have someone in the committee who has a daddy that can help big time. not trying to sound pejorative, as we did something similar for ours. believe me, sponsorship money means a lot if you wanna pull something like a malaysia night off real well.
there are many ways to attract people to come to your malaysia night. some places are known to have the best
girls
makan, whilst others take pride in their, say,
dikir barats
. on two occasions, we had a local drama/film
actor
(best known for films the likes of
trauma
and
abang '92
) in ours which meant tickets for our malaysia night sold like hot
goreng pisang
. malaysia nights nowadays are pretty sophisticated,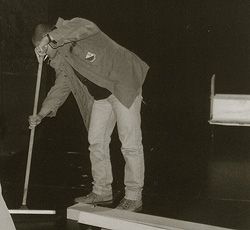 although the basic premise of a malaysian folk tale would still be there. more obscure tales like
raja bersiung
were used instead of the more pedestrian
kesultanan melaka
sketches. i've also had the pleasure to see a full-scale original musical based on the
mahsuri
legend. however, i'm sad to say i've seen only
one
malaysia night that wasn't fully based on a malay folk tale but a chinese one instead.
i miss those days. it was bloody hard work. looking back at the tapes/photos, there were indeed some cringeworthy what-the-fcuk-was-i-thinking moments, but it was great fun.