Cocaine
by the neon
cocaine n. a drug used in medicine to prevent pain and also used illegally, often in the form of white powder which is breathed in through the nose
Cocaine
is also a song popularised by Eric Clapton, originally written by J. J. Cale, an Oklahoma blues guitarist. I could dramatise the whole motivation behind the name, but I honestly don't have a good script.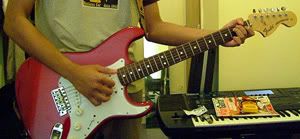 I bought her second-hand off
eBay
, and while waiting for the auction to end, I had my
Slowhand
album playing on the stereo. That was that.
I had her shipped from Japan and was surprised she didn't arrive at my doorstep with a broken neck. She is a 70's reissue Stratocaster in, what Fender deems, candy apple red. Personally, it reminds me of blood more than apples. Call me crazy but it'd be interesting to see a QT-like director shoot a similar Mia Wallace scene using blood-red cocaine instead. It'd be tougher to differentiate coke from real blood dripping from the nose. What am I doing here? I actually have a wussy-low tolerance for blood. Need a breather
sekejap
… phew.
She is
crafted in Japan
as opposed to being
made in Japan
, which makes
no difference
whatsoever.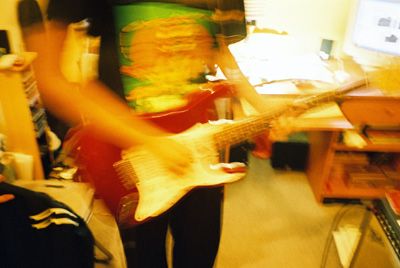 Now here's the dilemma, it says that the CIJ label was used from mid-'97 onwards. However, a check against the serial number of my Stratocaster suggested that she is a '93 or a '94, but the site author did say that dating Fender instruments is an inexact science, so I'll see her as a '93. hehe. She has the unmistakable big headstock as the symbol of '70s CBS-era glory and the lovely rosewood fretboard gives her a sombre tone – very different from
Eleanor
's bright and chime-y sound.
Since I bought her used, the description on eBay was she has the usual nicks and scratches. What the seller meant by it was she has a few paint chips down to the bare wood of the guitar. That's the mark of a well-loved guitar because mint guitars are rarely played. Try playing 300 gigs a year and keep the guitar in showroom condition. Yeah, try that. Or the previous owner might just be a plain, clumsy fella. Regardless of which, the chips and nicks add to vintage vibe. :-P
The first thing I did with my Strat was to block the trem. The official line was I wanted tuning stability. The truth is I'm Clapton's biggest bitch and he had the trem on all his Strats blocked.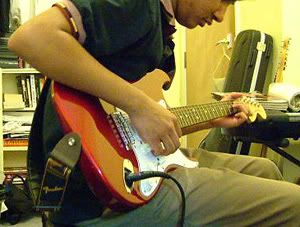 After all, I don't have the technical prowess to perform fretboard acrobatics with the whammy bar. Maybe I'll unblock it once I play like Jeff Beck. Or when lmsn plays like Joe Pass, whichever first (read:
never
).
She has not, as of yet, performed at a gig, but she was on the outro solo of
A Simple Goodbye
and the rhythm guitarist for
TMMBB
* played her on
(I've Got)
News
. I don't know the guitarist, though. I just left the guitar in an unmarked box at the park for him/her to pick it up. Just exercising my plausible deniability clause here.
I don't condone drug abuse and I'm sure neither does the owner of this blog site, but I think this J. J. Cale song is less about coke and more about heartbreak than anything else.
I wanted a dark-ish sounding, blues-y guitar reminiscent of a broken heart dripping with candy apple red blood.
And that's what I got.
She don't lie, she don't lie, she don't lie
Cocaine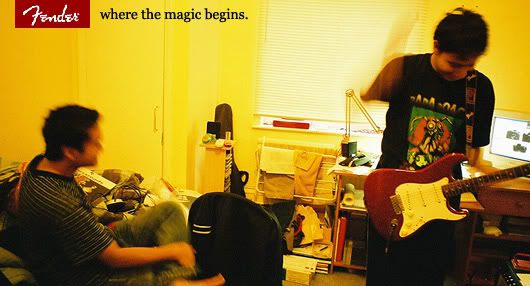 ---------------------------------------
*the murg masalam blues band

cocaine is a japanese-crafted 1970's reissue fender stratocaster, currently only available on the japanese market.
COCAINE (j.j. cale) as performed by eric clapton ©1977 warner chappell music publishing