Where art thou, o work?
when there's too much of it, one moans. ditto when there's none about. when i was a clinician, we'd never utter the Q-word when we were on call, just in case a million admissions started to come in. with it being soon after x'mas and the new year, none of the surgeons did any major ops. which means all this week in the department, we'll be bereft of specimens like oesophago-gastrectomies and the whipple's, leaving us with measly gallbladders and appendices.
and it's so bloomin' quiet today, that the solitary appendix i reported this morning didn't even wanna look like this.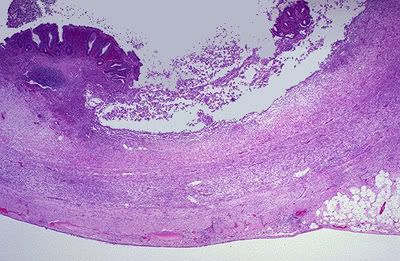 oh well. i'm sure after all these complaining, a truckload of GP gastrointestinal biopsies will come trundling into the reporting room at about 15 minutes before going-home time!
woo. hoo.