Quest of the avatar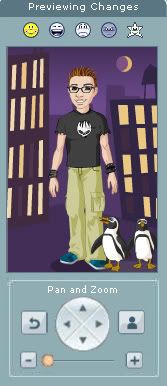 i have recently started to use yahoo! messenger, just for the hell of it since some of the people i've known recently use it (yes, you two.
haha
.). i've been using MSN messenger all this while and i still do, as i find nothing wrong with it. ok, yahoo! does offer "free" calls with BT and the emoticons do actually roll on the floor laughing its ass off. that's it, though.
anyway, i thought of trying out that customised avatar thingy (yes, you two have it. no, not
you
, the other one). to my abject horror, this thing you see on the right is the best i can get to represent me. no rock/skull tee or combats can save "me" from looking like a
macho dancer
(google it yourself, i don't wanna risk it.
hahaha
.). i've got some sino-oid features and the when i tried it, "i" looked so
jambu
... ooOOoo. tried it out and one conversant on
Y!
M thought the same thing. when asked why don't i get the one with the facial hair.
hahahaha
. that one is so chiselled-face, it's
so
unreal. wait a sec, it's not supposed to be real.
it's back to good ol' bloat the pufferfish, then.
oh. by the way, the penguins are my pets. apparently.
hoho.