A murder of one
by lmsn rds
The Awe (Part 1): "Me, the innocence… playing cards by the swimming pool"
June 1994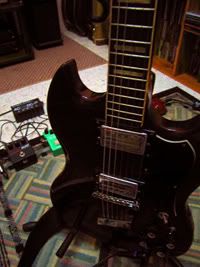 First of all, how troubled the musical scene could be then when a guitar solo is named after... food? No, the real question should be: could
that
even be considered a solo?
His
bizarre tone was everywhere: every tune had this same loose, pointless and dull tone. In the CD inlay is a blurred glimpse of the culprit: this tall long-haired guy with this... beard!
Superunknown
was then recently released and a certain Kim A. Thayil was hailed as the new god in the
guitar solo business
. How could this be? Well, this was way before the time I realised the value of great tone and technique in guitar playing, the time when that I learnt that he was playing a 1973 Guild S100.
Whilst most of us aficionados would go for an Ibanez RG or a Les Paul (occasionally the choice of a Strat pops up), I felt I needed to dream of something different. Hence, a dream of owning
gitar mat benggali tu
! But none of my mates knew what make it was, how it really looked or who else was using it besides this Thayil chap. Me? Like them, I was absolutely clueless (in fact, to this day I don't even know who else uses an S100).
Sheffield: "The Real Revelation"
September 1997
The first ever time I set my feet on UK soil. A few hundred steps later, these feet of mine were inside the (in)famous London Virgin Megastore with my eyes glaring at the week's issue of
Kerrang!
. The cover was emblazoned with
SOUNDGARDEN: Truth Or Dare
. Inside was this tiny photo of Mr. Thayil caressing a this white guitar.
"So this is how she looks like… pretty weird!"
Pretty weird to me as she doesn't have a trem bar, she had no pointy headstock and no resemblance whatsoever with the likes of an Ibanez. It took me another couple of months to finally realise that this is
the one for me
. I will own her no matter what (
his title of King Kiasu title was awarded after the persistent use of that last phrase - Ed.
).
The Awe (Pt. 2): "The Sun Still Shines Even When You're Gone"
December 1997
The Christmas hols brought me back to London.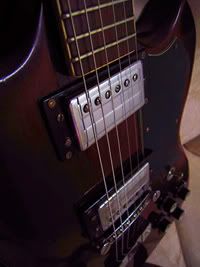 The place this time around - Denmark Street aka Tin Pan Alley. But she was nowhere to be found
(these guitars were well out of stock by that time due to Fender's take over of Guild - Ed.)
. It was later during the day when I found her. She was collecting dust in a dimly-lit corner of a small guitar shop when it struck me how could such majesty be treated this way. When i held her, I had a renewed sense of awe. This red baby was beautiful beyond words. Mesmerising. Tingling every nerve in my body. I was frozen in that catatonic state for a while when I saw the tag that was hung just behind her headstock.
£1399.
I had to leave her after struggling to keep myself together and kicking some sense into my head. I didn't even have the chance to plug her in and play, much to the fear of scratching (let alone breaking) something as costly as my collective 5-month JPA allowance. I needed to re-think a new strategy. How on earth could I find that kinda money? I came back to Sheffield the very next day. A week went by after which I dropped by good old Ace Music near West Street. Had a quick chat with Pat (who's always ever so happy for one) and with the £300 I originally saved for her, I got myself a cheapo black Epiphone
SG Special
. I hadn't given up on her. Probably it was just a way of expressing my frustration.
The Silver String: "We're lovers, dear. We are. Honestly."
February 1999
By this time, I've gotten way over her. I had bought and sold selling several guitars. Looking back, I was more likely trying to subconsciously be happy with something (or
anything
) I thought I could afford. I was at a carboot sale when I came across a dark-brown leather guitar strap in immaculate condition, and yet still possessed some kind of vintage quality. I could hardly make out what the make was, but when the price was only five quid, you can't lose. It was later when I realised I didn't really have much use for it as all my guitars already straps om them, especially when this recent purchase wouldn't even fit
any
of my guitars.
"Oh well, I'll just keep it then. Maybe something good would come around."
I didn't have the slightest idea then that the strap was this
silver string
that'd bring fate closer.
The Foreplay: "Leave Me All Alone I Wanna Touch You"

April 1999
I've been missing most (read:
all
) of my classes to go work in the Hazelwood food factory in Rotherham. It made me think of why was I reading medicine in the first place?
"I should be out there selling a gazillion albums and be on tour."
By the end of the semester with the money I made, I had a black Ibanez RG7-621, a surprisingly good cream-coloured Korean Squier Tele (which had undergone this huge transformation process entitling her to pass the American Fender QC standard
[yeah, right - Ed.]
) and a sunburst Epiphone Les Paul Standard.
"This bunch is good enough. I don't think I need a 4th guitar."
The Filey Street Kiasu Clan, that was what we were.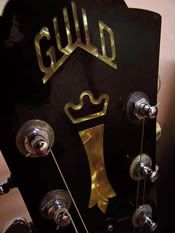 Buying a guitar (or getting a guitar transformed) was like a weekly tradition. Kudo bought his Gibson Explorer, Syatir got himself a Jackson, Bagak was happy with his Ibanez RG, A.J. revamped his Precision bass and Strat… the list goes on. I wasn't really excited by this whole new guitar-acquiring craze. Instead, I got myself a set of Arcam/Mission hifi separates. Somehow, there was still a cool £600 left.
I've never tried the second-hand guitar market other than the ones in stores. A friend then introduced me to
Ad-Mag
, which I scoured through for days on end. I then came upon an ad from some chap called Ian in Mansfield who was selling a near mint Guild S100 for a mere GBP400. Manna from heaven.
The Awe (Pt. 3): "To see a blind man looking twice before he crosses the road"
July 20, 1999
Kudo and I made our way to Mansfield in the infamous
kereta kerajaan/polis
(sial la lu, mat - Ed.)
.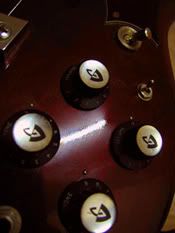 I went into this farmstead on my own. From the second The Red Beauty was taken out of her case, I simply couldn't steer my eyes away from her. What I heard next was the sweetest-sounding tone emanating from the guitar after she was plugged to this old Ampeg amp. When Ian told me that she was
an original 1973
, I almost blacked out as this was the exact guitar that Mr. Thayil was using on the
Superunknown
album! Hell, she even has the same color. The current (then) model would have 7-digit serial number but she only has 5. Ian also removed the pickup cover and in it I saw the numbers '03-20-73' etched by hand. I made my payment, dealt with the pleasantries swiftly and I was in heaven.
"Kau perasan tak semua gitar 'elite' kat Sheffield colour merah?"
As soon as I got home, the old brown leather strap was finally being put to use. The journey was over. It was simply magical.
The Verdict: "A Murder Of One"
Eternity
She is a beauty brushed in red wine. The odd scratch only makes her look more sumptuous, magnificent & defined. The well-distributed weight of the compacted mahogany makes her pleasant to hold. Her fretboard was made out of Brazilian rosewood emblazoned with squared mother of pearl inlays. Whilst the Gibson SG would bear a thicker neck, Guild has somehow manufactured the neck to fit leaner & longer fingers, which sometimes baffle me till now on how to really nail down her playability. Her headstock is studded with six Gotoh machine heads. For some, this might not be the best guitar to play. Personally, she's a simple yet elegant guitar.
She might be old but she is one feisty mother! With the tone and volume controls similar to that of the Les Paul, tone defining can be a walk in the park.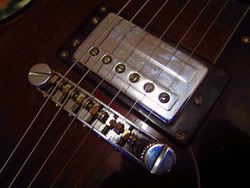 Her pickups are a pair of
DeArmond
'buckers from the late 60's era, and I can assure you that these bitches can make my 7-string Ibanez (which has Dimarzio Revolutions on them) sound like a
kapok
. And with the out of phase toggle switch, you can make it sing with either a distinctive dry or lush sound, especially when playing her with a clean tone. Plugged into a Fender Deluxe Reverb II, she will make any Stratocaster cry home to momma. Or give the Paul Reed Smith Custom 22 a run for its money.
Let's be honest, to compare her with giants like the Les Paul or the Stratocaster is actually unfair. Her tone's not as intense as a Les Paul, nor as meticulous as a Strat or even as versatile as a ES335; but she is what she is. She may not be my number one but she is always there in my heart.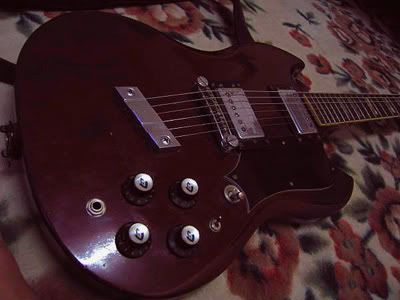 It reminds me of how great it was to be different, and after a journey such as this, how can I simply forget?
------------------------------------------------
guild has since stopped production of the s100 series, as you can see from their official site now run by fender. you can do a google search for more more information on this uncommon guitar.