Kuey teow COMBAT
since:
i am bored,
there is no work whatsoever, and
for some reason, i was talking about a lake garden that has a zoo in it,
i am gonna ramble on about my favourite kuey teow spot.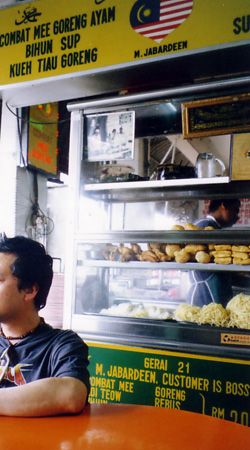 whilst the one that i
frequent
most
would be in the kelana jaya area (subang ria near FAM, a
comot
-looking ah yee is the proprietor), the one to die for, for me at least, is
kuey teow goreng combat
in taiping. the chap's called m. jabardeen whose cooking style includes acrobatic feats involving
botol kicap
. i've been enjoying his kuey teow since i was like 5. his stall is just at the periphery of the casual market (i don't know what they call the market now, as the term
casual market
came from the 50's/60's). you'd see it if you walk across the road from the little bazaar. my parents would also have their fare of kuey teow at this roadside chinese stall in town, which we'd go to on the morning before setting off home. until the time we discovered he used lard to fry it.
oops
.
anyway, combat is the real deal. an order of
saya punya tak mau taugeh aa?
coupled with
ayaq nyoq
or barley (from the stall next to combat's) with shredded ice, i'm in heaven. the
rojak mamak
(
apa? minum ka?
) and
popiah basah
in the adjacent stalls are great, too. the last time i visited was in february. that time combat was somewhat in semi-retirement, and in his place was his son. one really good thing i can tell you, combat handed his skills down well.
passing the pride
indeed.