Dirgahayu
prologue: phew. just got on the 0727 just in the nick of time. midland mainline does not have wi-fi. i was told that only GNER has it (?first class). i wonder if virgin has it ,too, with it being a hi-tech train service of sorts as compared to the other rail companies. i've even tried using my T610 via infrared. it was connecting but no response from my ISP. oh well.

it's absolutely freezing this morning. had no time to scrape the thin blinding layer layer of ice on the windscreen. demister was switched on full blast and off i went, hoping not to hit anything, mobile or stationary, as i was late like the british rail service i've been using for the past 16 years. will be meeting up with friends, some old and some new. don't really know what we'll doing yet, though.

later.

---------------------
i've not hung out with my friends in the smoke for a while. i know. i've only just been, but it's usually for day trips. this weekend has been dubbed a blogger's weekend out, a term coinned by some non-blogging mates of us. yes, blogging is like being in a cult for some.
hahaha
. geeks unite! not. :)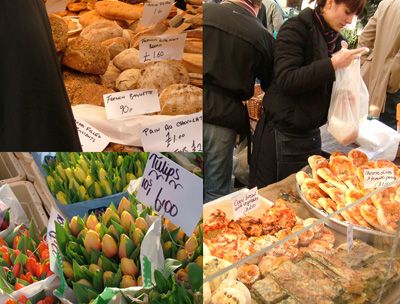 portobello market was our first port of call. and i was starving 'cos
some
people had their breakfast already.
hah!
:) anyways, had this pizza slice which was more of a ciabatta chunk.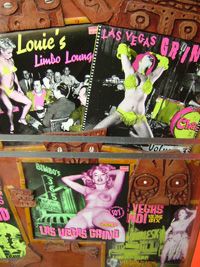 being ravenous, i couldn't really complain. i then checked out this record store to see if they've any vinyl worth getting until
someone
loudly exclaimed,
"eh, backstreet boys tak de ke?"
.
nanti kau.
we left in a right laughing fit soon after. i don't really wanna know what the store owner was thinking. a cheap tee later, we went off to have lunch at the new malaysia hall at bayswater. bayswater (like kensington) has always been a bastion for affluent malays since time memorial (in my case 1988.
hehe
.). like the old one in bryanston square, the basement entrance to the cafe was ever so familiar. the cafe is smaller and apparently is run by someone who used to run the eponymous satay house down the road. the
nasi ayam
was great and the
cokodok
was... oh well, no
gerai/kedai
in the world can ever beat mom's own, right? the
teh tarik
has definitely improved.
in the old bryanston square days it was simply sweet white tea poured from this flask. from like a lil' height to create a 5-second froth. i was thinking of creating a
teh tarik
ranking system but then after being to only two malaysian establishments serving
teh tarik
of late, i decided otherwise as don't think my evaluation would be that statistically significant (sample = 2, whaddaya expect?).
went to whiteley's to catch clint eastwood's
million dollar baby
.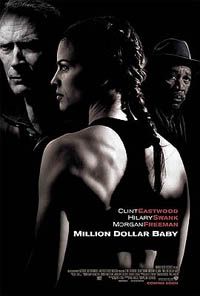 i've to say this past month, i've seen some really cracking films. clint was being clint: ever grouchy, rarely cracking a smile. hilary swank's
mo cuschla
was
fit as horses
downright convincing, lacerations included. check out the nose-correcting scene (right, idlan?). i have to say, however, i loved morgan freeman's cool and calming one-eyed eddie (he's always playing some kind of cool and calm person if you think about i, but i ain't complaining!), especially when one of the members of the gym found out how uncodger-like eddie is, the hard way. oh, and not forgetting the wacky danger (you may remember him from earlier roles like vic the (
also
) wacky led zep fan in
almost famous
). apparently clint did the soundtrack himself and throughout the film you can't help being reminded of
the unforgiven
. worth a watch.
i managed to dissuade the guys from bowling to partake in some
pannenkoek
at high holborn.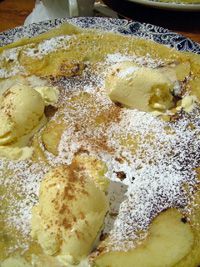 hehe
. the place is called my old dutch and i stumbled across it whilst reading
this
blog. since being back from the netherlands, i just felt like pigging out on some more pancakes. why not drag some people with me while i'm at it. the online
review
for the place was kinda mixed, but what the hey. the
pannenkoek
were absolutely massive. my only gripe was that the apple in my apple/cinnamon/vanilla ice cream combo wasn't cooked prior to it being added to the pancake mix.
i better stop complaining before someone hurls the go-masak-sendirilah message down my way.
the belgian waffles ain't too bad either. the place was not that busy despite it being a saturday night. oh, and guess what we were supposed to do next after all this.
go for makan at
nahar's
.
we had like a couple of hours to
shove the food deeper into our GI tracts
kill before adjourning to paddington. i have been living in this country for like 16 years and never once had i eaten here. now, when one is abroad, one shouldn't expect satay to taste like the one made by haji ibrahim kartono in kampung jenahak or
nasi lemak
by makcik asiah at batu ampat.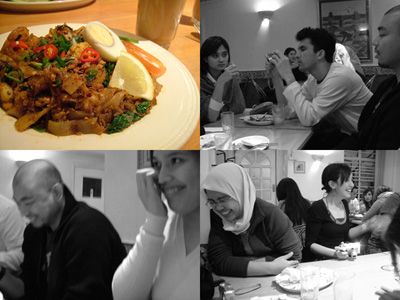 well, this place has an awesome
cashier
kuey teow goreng
, in regular or
mamak
stylee. can ask for no
taugeh
some more. full marks, man! their
teh tarik
was just as rocking (now i've been to
three
UK establishments with rocking teh tariks), if not better.
nasi ayams, nasi gorengs
and
kuey teow gorengs
aside, the company was absolutely great. we were joined by a couple of mates of seventudjoh's. five of us happened to be bloggers, and boy, we were in for a hard time, verbally abused for having such a
sad
great hobby.
hah! just you wait!
hehe
. also received a couple of pleasant surprises and i've to say a great big
domo arigato
, people!
after all that food and non-stop maniacal laughing, i can assure you i went to bed tired as hell, with a smile carved on my old mug.