Warkah dari Belanda
i had a tiring break. i find that most of my vacations are tiring, where i need a post-vacation vacation to recuperate. december ain't exactly the best time for a sightseeing break in a european city. it's different when you go snowboarding in the dolomites or ice-climbing in norway (neither of which i do nor can i afford to). i think holland is best visited in the spring. rent a bike, cycle around and see the windmills, tulips and, err... clog factories.
a few things i noticed/learned:
- dutch women (most of them) are quite tall
- the country
is
really flat!
- left-hand drive is so damn confusing
-
sneltrein
does not mean slow train
Amsterdam
the last time i was here, it was a whirlwind visit. ridiculously quick. if i had visited the
rijksmuseum
to check out rembrandt, this time it's
van gogh
. last time was purely McD's, this time i had to try a cuisine which is somewhat (remotely) local. i do play the tourist. i'd like to think i'm not a sickeningly touristy person but my travelling companions (past and present) may beg to differ.
hehe.
sometimes i find i can do better walking around town alone, but that means no pics of me with the background showing [
name a famous landmark
].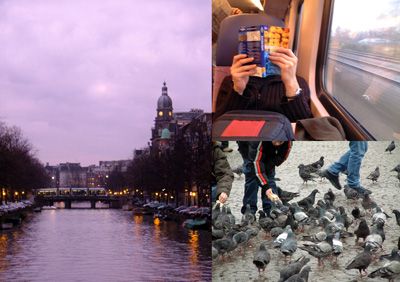 amsterdam's made up of a series of canals as you all know. one thing i find when i walked around was that the interesting bits (may it be shops or eateries) are mainly on the
straat
(
jalan
). this would mean i need to walk along a
gracht
(canal) to get to another street. i found this to be true at the western canal belt of the city.
don't get me wrong, the scenery's lovely. the quintessentially dutch facades of the buildings, the barges moored by the canals, the bridges. after the
n
th canal, it does get a little same-y. the city gets nicer as you go away from the centrum or medieval part. the oude zuid has the museums and a row of diamond merchant shops along paulus potterstraat. at the moment, one of the museums (the stedelijk, i think) is closed. the rijksmuseum on the other hand has its main front entrance disrupted by major construction on the stadhouderskade.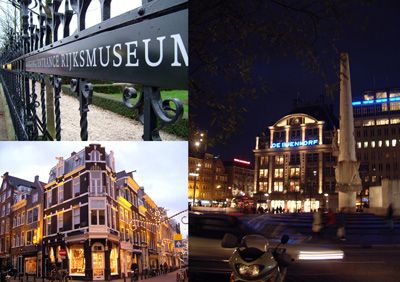 makan
dutch stylee. well, according to one friend, there's not much of an actual dutch cuisine. traditional dutch cuisine is mainly centred on meat, potatoes and veg. the lonely planet guide states that amsterdam ain't no food mecca but it does provide diverse choice. indonesian (obviously), argentinian steakhouses, italian, french, you name it. at the spui, there was this stall which sold
haring -
salted raw herring. unfortunately not my cup of tea. hey, even the sushi i eat ain't got anything raw. hehe. i'm not that adventurous. who do you think i am? anthony bourdain?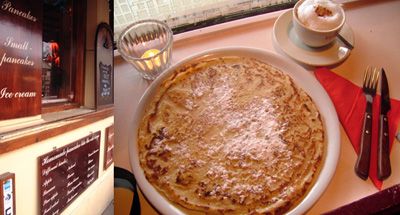 so the next best thing that's dutch are the pancakes and apple pie. the place to get 'em were so far apart, i opted to have an
appel pannenkoek
(the best of both) at this lovely shop called the cafe singeltje at the bloemenmarkt (flower market). simply divine. pity the view from the window was not that great.
as our friend,
jimmy C
, professed, the
frites
are not to be missed.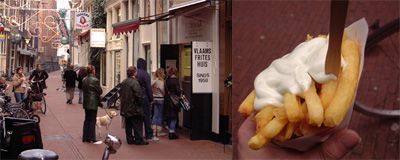 i've mentioned this in my previous entry and this was the only eaterie (of sorts) that i managed to try as recommended by my trusty lonely planet book. the vlaams fritehuis is simply a hole in the wall of a building on voetboogstraat, off the shopping precinct near the spui and kalverstraat. this is
the
place to get
vlaams frites
apparently (since 1887). for €2.40 you get a medium portion with the
saus
of your choice (there's satay
saus
too!). get the greenpepper mayo. hoho.
itu lidah pun mau ikut dalam sekali ooo.

what's a trip to amsterdam if you don't go to the red light district. it is a tourist attraction and you don't need to be of the kerb-crawling sort or a hash-smoker to have a good laugh in de walletjes.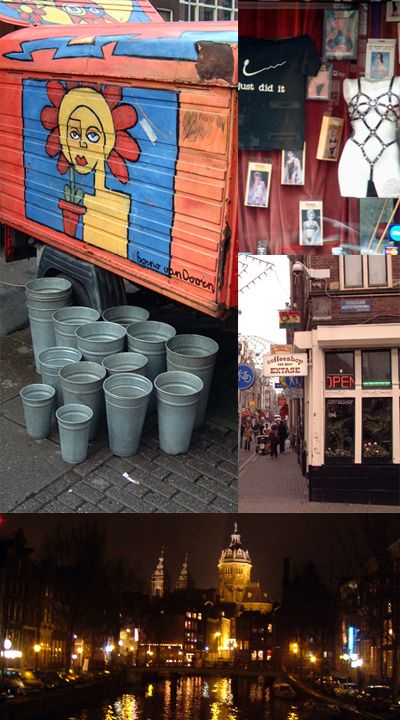 you get touts trying to lure a hoard of chinese tourists (made up of mainly middle-aged couples) to live sex shows. the aquaria had women (and she-men) of various race, age (there was one who looked like the oracle from the third matrix instalment) and shape. whatever tickles your fancy! there were load of signs which said
kamer te huur
(literally means chambers for hire, as the prostitutes hire the rooms they occupy) - which i naively thought it meant something like
come in here
. despite being a relatively safe area, there were loads of guys who sell illicit drugs. they'd pass by you and utter words like "cocaine" under their breath. reminds me of the market scene in
ali baba bujang lapok
. i remembered telling my late mom about my visit to this (in)famous part of town. do you know what she said? "
jaga-jaga sikit, nanti kena AIDS
". i was expecting a lecture of a more religious nature. :)
as a parting shot, we went to
sukasari
, an indonesian restaurant on damstraat just off de walletjes. i didn't go for the
rijsttafel
(a nasi padang kinda fare,
a la
tapas) as most of the lauk is in fact...
lauk
, ie
babi panggang/babi ketjap/serunding babi/sate babi
. we had
ikan bali
, deep fried snapper and a
udang sambal petai/lemak
thingy (
tak ingat nama
!). i'm sure, like some of the malaysian restaurants in london, they won't really taste like real thing.
sipi, sipi
.
Leiden
the oldest university in the netherlands. scientists like van leeuwenhoek and huygens were from here. rembrandt was born here too.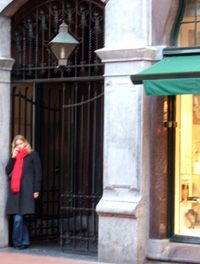 and apparently, i can get to see a real windmill (tourist
yang amat jakun di sini
).
well, there's like
one
windmill (de valk, a museum). loads of students. kinda like cambridge. except that leiden lacks any old buildings. oldest university? what gives? the
leids universitair medisch centrum
and some of the university buildings look as modern as the KLIA. the
museum boerhaave
houses many scientific/medical exhibits from as early as the 16th century. i have to admit that i was fascinated by the 17th to early 20th century microscopes that were on show. [geek alert!] apart from the small
pekansari
, leiden felt like a walk in downtown sunderland. i have to say i was a tad disappointed.
den Haag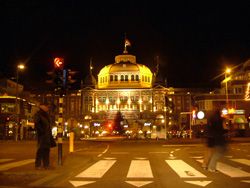 didn't do much in den haag (i found out that it's pronounced
denaakh
), apart from having the largest seafood platter i've ever had in this seaside restaurant in nearby scheveningen. [geek alert again] oh, yes. if you order drinks that have a piece of lemon in it, you get this cocktail stirrer like thingie called a
stampertje
. you use it to
tenyeh
the lemon in the drink so as to mix the lemon juice with the drink. clever. all this talk of food aside, den haag is otherwise a pretty quiet city. it looks dead after 5pm!
--------------------------------------------------
photo credit: i took most of these pics on nik's fujifilm finepix 4900z. the rest were taken on my lil' finepix f420.
more pics of the trip in the gallery later.