So what can I do you for today?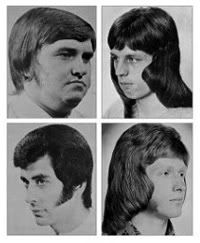 today is my half-day and i decided to get my barnet trimmed to a manageable length. decided to try this
new
(it's been there for a year now actually) place just in front of the hospital. the chap did the job very well indeed, and i'll definitely be back in the future. i don't usually converse while i have my locks chopped. the cordial chat about how busy the day was and the weather would be about it. during the rest of it, i usually keep schtoom. you see, the experience of a haircut for me is a very relaxing one. i rather not talk. don't get me wrong. this ain't some weird fetish. the longer one takes to cut the hair, the better. the best bit of the haircut for me is when the use this little electric shaver to trim off bits near the ear and the nape of the neck.
ooh yeah.
now. where was i....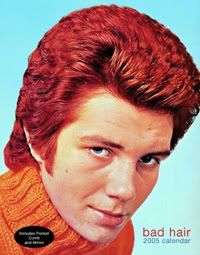 as a kid, my late mom would cut my hair. if fact, ayah would have my mom to cut his hair (i remembered my dad having a haircut in the kitchen of my flat in newcastle before my graduation day). the local indian barber used to charge like three bucks for a haircut in them days of yore. it's usually on the last saturday of the term holidays when all three of us would troop off to this place called ananda in the datuk sulaiman precinct. i guess that was where the electric razor thingy really started.
i better say no more. hahaha.
i never liked the razor they used (well, hygiene was never in my mind then - especially in this day and age when people worry about infectious diseases transmissible by blood). another thing which i hated was the
bay rum
that was slapped on the neck after the shave. how it stank! the last time i went for an indian barber experience was a couple of years ago, when i had my first experience of the neck massage and snapping, which was ok. i do worry sometimes, though.
remember how it was at school? the definition of short hair by the ministry of education was (and still is, i think):
the back length is to be at the level of the earlobes
the sideburns are to be at the level of the eyes
the hair length is to be shorter than 6 inches

there was one time in standard four when the head did a spotcheck and i was given a stern reprimand, "rambut macam kaldai!!!". what gives? i only had a haircut just three days before. secondary school inspection on sundays were worse. the offenders would get lopsided haircuts by the warden if you are caught breaking any of the three rules mentioned above. worst still, we were then (i was considered an offender once, and thank god i didn't get the compang-camping treatment) asked to get the haircut done by the weekly visiting barber who used the bluntest shaver known to man. our heads were roughly handled (oh yes. that's how people get haircuts. like in prison!!) and we'd leave the barber's chair with red necks (due to the blunt shaver). definitely not my idea of a relaxing day at the barbers.

when i first came to these shores i wasn't really sure how to give instructions to the barber. i know how to speak in english, thank you very much, but it was only then i knew terms like "take the weight off" and "i don't want it tapered on the back". with the added word "please", of course. i have to admit, in those first few years in the UK i sported a mullet. not as bad as bono's or someone who lives in a trailer park in idaho, but bad enough. i came to my senses when i was in upper sixth, and the ubiquitous public school short back and sides were it then. rah!

in university, i had to do what every respectable malay male undergraduate did. sport long hair, wear a leather jacket and smoke marlboros (lights and regal tak main la brader). by the time my hair reached my shoulders was in the second year of medical school.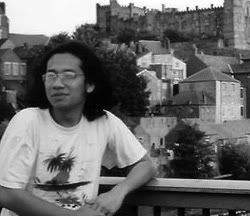 those were the days of nirvana and pearl jam, of course i had a shitty mark and sparks cardigan, ripped 501's and doc martens to boot. growing my hair long was absolute torture. it was bad enough, when the hair reached midway of its full length, it had the tanglung effect (read: ini misai ke tanglung?). also, i didn't really know how to take care of long hair. my hair is naturally wavy, and when it is long it'll be straight (due to its weight) with tangles at the end. hey, if i knew that hair could be straightened it'd probably look neater. so, it was more ian paice (yeah, i had kapak sideburns to go with it, man) than kurt cobain. before i even had a chance to show mom and dad my hair, i had to chop it to a respectable short back and sides again as i had started my clinical training. from that day on, it was short back and sides all the way.

styles? i used to have number 3 sides with the top worn up spiky like guile of street fighter (err... sonic boom!). i once went number one all round which made me look like a monk. i once kept it long again (as a doctor... shock! horror!) and it would only look good if i don't wash it as it will be straight, without the shirley temples toing-toings at the ends. nowadays, i prefer the fin (think fran healey, but a little longer). i've tried many different establishments since, from salons like essensuals (nice....) to local two quid barbers. this place i tried today is somewhere in between. as long as i can tell them exactly what i want and they know what they are doing, i don't really need to have a creative director of toni & guy to cut my hair.