Need for speed
all day today, MTV showed
pimp my ride
. you heard me right. it was
pimp my ride
for like 24 hours or somethin', topped off with the first of the new season. the first time i watched it was a while back, and if it was on when i channelhop i'd watch the antics of Q and his crew at
west coast customs
changing shitty-looking rides into ones that are tight. my favourite bit of the pimpin' would be the electronics, handled by mad mike, where you'd get to see a ridiculous amount of wattage and subwoofers installed alongside multiple videoscreens and ps2's. to think they'd put thousands of dollars of kit on a car that'd probably worth twenty bucks is simply... nuts.
two things, though:
i wonder if they pimp the engine. there were a couple of no-hopers which had actual engine overhauls. there's no point driving a tight lookin' car if the engine's wack.
security. all you need to do is tape each programme and suss out which neighbourhood these pimped cars are located. man, if i could think of that i wonder what the professional car thieves can do! when i was living in newcastle, my housemate had an escort which had a full RS cosworth bodykit (including wheels, recaro bucket seats, wood panelling... the works, except the engine was only souped up and not a proper RS cosworth one). even the police tailed him every single time, thinking the car was hot. not exactly unexpected, it was stolen 3 months after owning it, and the car was found a month later stripped to the bone. back to the programme, i do hope they also added state-of-the-art security systems to these pimped cars.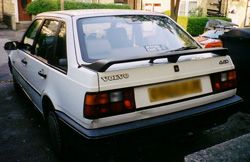 i used to own a white volvo 440 nicknamed
rusty
by my colleagues. another nickname it had was
kereta kerajaan
due to its white colour. come 2002, it was 12 years old and i was spending up to £800 in repairs in a span of 8 months. and the market value of the car then was like less than £200.
how i wished
x-to-the-z
could come knocking on the door to get rusty officially pimped then.