Moh makan! (part 2): Tanjung Bas Malam*
what is inside this pau?
open and see laaa!
mmm! it has "kaya" in it...! i like!
how come you cannot eat pork? ... if i may ask...
because my religion says cannot.
what else can't you eat?
elephant, dog... cat...
it's boxing day and unlikely most people here, i don't have any leftover turkey to make sarnies with. so i made pau.
as a kid we used to buy the tanjung malim pau at the simpang every time we ventured up north to taiping. after a while, we found out there's too much
tulang
and too little
isi
in it. now, with the highway, there was no reason for us to make a detour for pau. i had to make do with the overpriced and too-much-dough versions in kl. over here, i used to get my pau fix from
wing yip
, a large chinese supermarket in birmingham.
to steam the pau, i overturned a little bowl and place it in my rice cooker which is filled with some water. i'd put my pau(s) on a little saucer and place it on the bowl. there you have it, a make-shift steamer. lately i just cannot seem to find any pau of the kaya variety, even in manchester. london has it, and it's a couple of hours by train to simply go and get pau. i decided to make it myself after a friend told me that there is this ready-to-mix flour mixture by some thai company.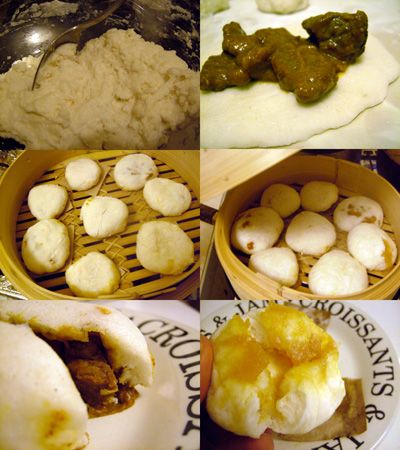 to make it from scratch you really need bleached flour (
yang di-impot dari hong kong!
) and gipsum powder. i can't be bothered as this ready-made flour just needs a little bit of water and vegetable oil. knead it and separate it into little balls (one box makes 12, i used half and
made 8
). flatten the dough and add the
inti
(i made beef curry, so i had 4 with
kari daging
and 4 with kaya, my favourite - also a rarity in the north!). fold the dough into a parcel and place a square-shaped piece of paper (i had the
nasi bungkus
brown paper from malaysia which is pretty handy) on top of the parcel. the smooth top of the pau is actually its bottom (get it?). steam it for 15 minutes and there you go. yum yum, if i should say so myself.
one thing, don't make it too big because it grows when it is cooked.
---------------------------------
[*] what i called tanjung malim as a little kid