Kaas! Lots of kaas!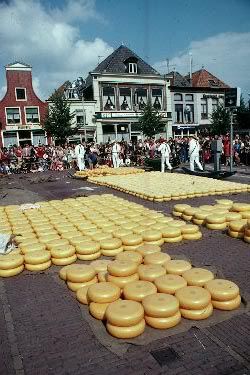 hallo
.
i am typing this entry in a mate's house in den haag.
ja
, i am in the netherlands. flew in from manchester this afternoon. i need a break, as it had been a stressful few months. need some r 'n' r.
the cleverest thing occurred as i was driving over the peaks to get to manchester. i left my usb cable for the digital camera.
aaaargh
just doesn't describe it. my mate's fujifilm camera's cable wasn't compatible despite the same make (well, different model i suppose).
fakrawala.
anyway, i'll probably post more pics once i sort something out. so, in the meantime you'll have to make do with the googled image of edam
kaas
.
i was here like 10 years ago (train and ferry combo then). plane food was ok. it was a fokker. when i first heard of it, the images of the rickety malaysian airlines fokker friendship came to mind. thankfully, it's the jet version.
phew.
the train from schiphol to den haag was a little delayed (apparently an uncommon occurence) but it's nice to know you don't have to drag your ass far to get from the baggage claim to the train platform. it was dark when we arrived. had a chinese meal (we were recommended
babi ketjap
by a friend, but all we saw was
kipfilet met cashewnoten,
aka
babi
pangang
). hahaha.
will get some rest now. amsterdam tomorrow, and will have to post some
ansichkaart
whilst i'm there among other things to do.
dag!