Dancing in the streets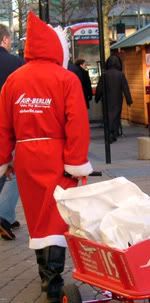 as i was walking through the streets of manchester yesterday, i braved the crisp winter air to watch some really good street musicians. the first was a chap sitting under a monument on st. ann's square playing his
baby
taylor. his singing wasn't out of this world nor was his playing. the combination of the simplicity of his strumming and his voice was just mesmerising as he played tunes by sting and the beatles, with some christmas stuff for good measure.
the other was this van morrison look-alike in front of
zara
and his strat. and hell, was this guy good. the neon would probably have peed in his pants watching this man play some really hard blues. his voice was absolutely superb, and he executed the fills and the licks with much aplomb. the x'mas shopping crowd was clearly enjoying themseves, yours truly especially. foot-tapping, head nodding and even a lil' twist was the order of the day for some.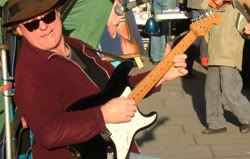 i took a one minute footage of his playing on my digital camera and if any of you who read this know of any free video hosting sites, i would really appreciate it, as it'll be quite nice to post this up on the blog!
what made me think was how brilliant some of these street musicians are and yet we get so much crap churned out by people with recording contracts being displayed in the cd racks at hmv and virgin, and played on the airwaves. this is the same here as it is back home in malaysia.
---------------------------------------------------
and i also did the unexpected, spending some dosh on baju and kasut. they have sales before x'mas which is new to me. would've done more damage if it wasn't for the fact that my brain's reasoning centre got the better of me. scramn you, ash. scramn you. :)
check out some random shots i took, in between the fcuk's, reiss's and jones the bloomin' bootmakers.