Moh berbuka! (part 4: moreh)
i don't actually know the proper definition of
moreh
. if you read lat's take on ramadhan in the 70's (
lat's lot
i think), it's
berbuka
at the mosque. some friends of mine say it's supper (usually comprising
bubur
) after
terawih
prayers.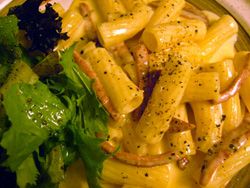 anyway, i had a couple of
moreh
s (i eat
one
large meal at night, honest.
lalalala
.) recently. one of which was this craving for a penne carbonara. i don't have an interest in wanting to know what pork tastes like, but with the advent of beef bacon and chicken ham, a lot of the the previously disallowed dishes can now be savoured. got it from the
naked chef
's book, this is like 15 minutes to make. i used abruzzo
elicoidali
and did it
al dente
as usual.whisk 5 egg yolks (
phwooar
.), with like 100 ml double cream (
phwooar
. again.) and 50g of grated parmesan (
mati ini macam
). while the pasta was on the stove, i chopped up some chicken salami and shallow-fried them bits in some extra virgin till they got crispy (supposed to use bacon, but cannot find
halal
bacon in sheffield
one
). bung in the hot pasta into the mix, the residual heat will pretty much cook the eggs, but
kacau betul-betul
or you'll get scrambled egg-like carbonara sauce. season with some freshly ground black pepper and chuck in some leaves.
zhangg!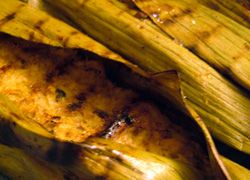 another
moreh
i enjoyed recently was more of
melayu
fare. the last time i had
otak-otak
was like 30 years ago in bangsar. i don't even know what they actually taste like apart from the fact it's
pedas
. every malaysian who lives away from home should have a book which tells you how to make common malaysian dishes! since i've some
leftover
banana leaves, i decided to make
otak-otak
instead of
kuih koci
. the only thing i didn't have was
buah keras
(
yeah, yeah. very funny
). i've also run out of
belacan
goddammit (
tak da lesen
). i was lazy, so i just used canned pilchards in brine, and mixed it with this blend of 8
cili kering
, 10 shallots, 3 cloves of garlic, a little snip of
lengkuas
and a dash of turmeric powder (don't have fresh
kunyit lah
). mix in some
santan
(120 ml) and dessicated coconut. add the
otak-otak
into the rectangular strips of
daun
, and
lipat
/staple. i used a gridle to cook 'em as i can't be arsed to use a barbecue. tasted nice, if i had to say so myself. also experimented it on
black
,
and he's still alive
. that's good enough for me.