Kompilasi lagu-lagu HITS[sic]
for bands with an album that didn't break the bank lately, the next strategy would be a
best of/greatest hits
album. take
travis
as an example. they had a great debut album, and for a sophomore effort,
the man who
was an absolute corker with tunes like
turn
and
why does it have to rain on me
. then
the invisible band
came in and the tunes were still ok, but same-y. when they released
12 memories
i just had to go, "och aye, what the hell do you guys are thinking?". now they give you their greatest singles cd (imaginatively called
singles
) with one new tune to boot. this
woman
's also got one out soon (with a similarly titled dvd too).
but a musical career in the doldrums ain't the only reason for the easy money hits compilation.
the verve
's got one (they ain't even a band now. hehe.). and so does the
godfather
of grunge.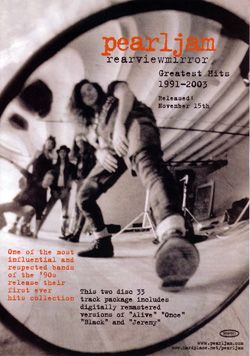 take
this
for example.
pearl jam
's
riot act
was their last album with
epic
. if you'd notice, the
benaroya
album was sold in the shops distributed by
bmg
. their
man of the hour
single didn't even have a label. they did sell 20,000-odd units via
ten club
, the official fan club of the band. at the moment, they are still label-less and are enjoying their independence for the time being. and what does epic do? release
rearviewmirror
, a collection of some of pearl jam's gems. i'd have to say if you already have every single recording they ever had, this double cd that's coming out on the 15th is pretty much redundant. but what the hey.
suckers
die-hard fans like myself will part with some of our hard-earned dosh for the discs. hey, they did digitally remaster tracks from
ten
for this one. it'll be different. ever so slightly. it counts. hehe.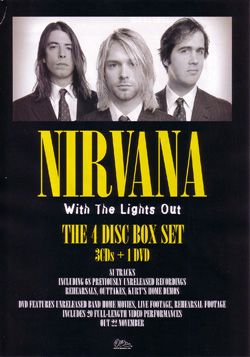 well, talking about parting with your hard-earned cash, this is something everyone's been waiting for. after so much legal wrangling with courtney love, the remaining members of nirvana have finally hammered the last nail on kurt cobain's metaphorical coffin. a week after pearl jam's
rearviewmirror
, we can now feast on
with the lights out
, nirvana's box set of 3 cd's and 1 dvd. Q magazine's favourable review of the set has warned us of the myriad of material contained within, some of which probably be more of interest to the nirvanophile, like the earlier demos and tracks of the band messing about. i'd say the main bit i'd be checking out would be the unheard-of tunes kurt wrote (taken from tapes which were in love's possession all this while). amongst others, i'd also be keen to check out their cover of led zep's
heartbreaker
. there would be also bootleg footage of their early gigs and other odds and sods.
looks like a busy month for us ex-alt rocking late 20/early 30-somethings, music-wise.
-------------------------------------------------------------
on the subject of
ka-chingg!
and music, it appears that if the money's really good you can get disbanded bands to bury the hatchet and gig together. frank black
et al
are at the moment touring as
the pixies
again. according to Q magazine (again), rumours have it that there is to be a
pink floyd
reunion. the three current members' people are apparently talking to
roger waters
' people across the pond. apparently the band could bag like $100 mil a year if they got back together for a tour. if it happens next year, it'll mark the 30th anniversary of their
wish you were here
album. a mate of mine has also agreed to come along, regardless of how much the ticket would cost. next to inventing a time machine to get to see them play like earls court in the 70s, i'd say the ticket price is worth it.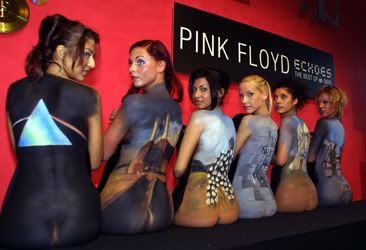 oh
ya
. the neon. king kiasu. what a fine time to be back in malaysia. i'll be thinking of you both when i go watch the great gig in the sky. :)