Moh makan!
[*moh=perak slang for jom. this is a follow up to my eh, lapar lah series; i've lost count, hence a new one. hah!]
whenever i'm in nottingham or manchester, i would always try make some room in my tummy for
wagamama
. my first wagamama experience was at their first london establishment in bloomsbury back in 1993. people are sat on long benches like the
kantin sekolah
, and orders taken by your friendly waiter are transmitted electronically to the kitchen. as it gets pretty busy, customers are encouraged to leave a.s.a.p. post-prandially. cool or what.
wagamama is not really japanese. it has its roots from traditional japanese
ramen
stalls, and i'm sure those who are into
real
japanese food can tell (i can't. haha.). fast food,
japanese-style
and made in britain, if you ask me.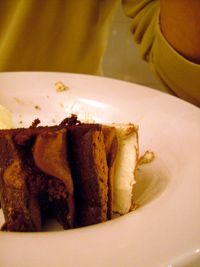 i usually go for the
ebi chilli men
which is
soba
noodles with prawns in a chilli/carrot sauce. if i feel like something soupy, the seafood
ramen
is just yum. the stock has pork in it, so you can ask for the vege stock instead. my favourite side-dish would have to be either the
ebi gyoza
or the
ebi katsu
(prawn dumplings and deep-fried prawns with
sos cili lingham
chilli sauce, respectively).
green tea is the usual order of the day for most people, but i just love their fruit juices: the apple/cranberry or apple/orange combo goes down really well for me. their desserts are pretty much fruit-based, but they do have the conventional western ones. like the chocolate fudge cake with the cream laced with a hint of
wasabi
. nice one.
it's a lovely place to go for simple and tasty food. it's a little pricey, so best to go after payday if you want to indulge yourself. it's worth the money, in my opinion, cos i usually have to stagger out of the place, due to
kenyang
-ness, after a meal. and i don't drink
sake
.