Moh berbuka! (part 2)
i was feeling like having my
iftar
at
pizza express
this evening. i love the place. it's a chain but each establishment has its own look and ambience. i like the newcastle one, for example, as its dining area is surrounded by bookshelves; kinda like a
ristorante
in a
bibliotheque
. i'd imagine a quiet meal, after a long day. winding down with some ice-cold orange juice, baked dough balls for starters and a
pizza cajun
. not forgetting, their to-die-for plain but heavenly cheesecake with the yummiest vanilla ice cream.
so, there i was stuck behind this peugeot when i noticed that my nearside headlight bulb was busted. what luck. i ain't gonna have the cops stopping me for a busted headlight. besides, i don't feel happy driving blind in one eye. :P
well, if i can't go to pizza express, i'd just have to bring it back home.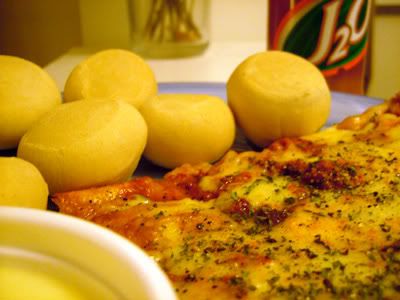 they don't do take-outs (i think), but
sainsbury's
have 'em. got my doughballs, a 12" margherita and a dozen bottles of j2o orange and cranberry/passionfruit, and i was good to go. after buying their pizzas at the supermarket, i was taught to drizzle a little olive oil on the pizza before bunging it into the oven. it does make a difference to the taste (i now drizzle the extra virgin on even the skankiest deep-freeze pizza known to (wo)man). add some freshly ground black pepper to season. the doughballs took just under 3 minutes to warm up in the oven, and they even threw in their garlic/olive oil/butter dip with 'em balls. a bottle of j2o in hand, my pizza express experience for the evening was in front of the telly, re-watching episode IV.
if only they made their cheesecake for take-outs. i'd be in heaven.