Wrestling princess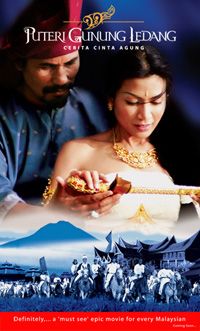 nothing beats watching a movie on a school/working day. no queues! i've just gotten back from watching saw teong hin's
puteri gunung ledang
. i guess you'd probably have read a dozen or so blog entries on this movie, which in my humble opinion, is a fine piece of cinematic work made locally so far. the interior sets were great, as were the exterior ones, although one would wish that the
istana
would look more rustic. bah! what would i know anyway?
m. nasir was quite the
pahlawan
, but everytime he appears onscreen, his presence evoked his
mentera semerah padi
video in my mind. or his between-song banter during one of his concerts. tiara jacquelina was mysterious... and beautiful. in the jolene blalock sense. apart from the crying bit. damn. adlin aman ramlie's portrayal of the ever so useless sultan mahmud shah was on the money. i wasn't that surprised to see the presence of heavyweights the likes of rahim razali and christine hakim, albeit in supporting roles. most of the other actors are noted for their theatre work, like sabri yunus' sang setia which provided some comic relief in the film. however, if sabri had done just another one of his repetitive routines, the comedy would've been token and merely tiresome.
anyway. the acting on the whole was great. the photography was simply excellent. i just loved the telephoto shots. tan yan wei's orchestral (played with
real
strings, as opposed to a synth) score was superb, especially the ones with the javanese chants.
[WARNING: SPOILER ALERT]
until 1 hour and 50 minutes into the film, where we were treated with a shaw brothers wire fu action sequence between tuah and gusti adipati.

damn (again).

why? why? why? why? why?????????????????

everything was soooooooooo peachy until that bit. i loved kill bill and the matrix too, but this? actually, it was the fact that it had explosions, and the inter-dimensional fight bit that made me went aiyo. just having the shaw brothers-esque wire fu bit in the area of the batu hidup would have been perfect.

again, only my humble opinion. :)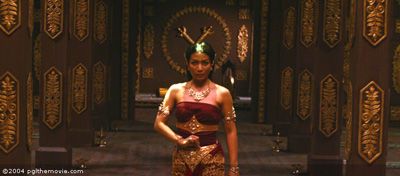 it's a great film, nonetheless. for one, i'd never seen a local production (with some outside help, but who cares?) made in such epic proportions. c'mon. compared with the
anak mamis
and the yusri/erra fare bombarding the local film scene, this is definitely a breath of fresh air. yes, they did spend RM15 mil on this. and before anyone spouts off about how a great film like
reservoir dogs
costs only less than USD1 mil to make, i still think
PGL
is a great movie. i'd say in a hollywood sense, as opposed to the sundance film festival (it's a pity i will have to miss u-wei's new opus,
buai laju-laju
). may this be the beginning of more epic films.
pelayaran abdullah
would be great. any takers?
just go watch this.
[
post-script
: anyone knows where i can get local indie films, the likes of amir muhammad
et cetera
?]