Gmail lagi
another easy quandary. during my short vacation in kl, i stumbled across my old spm exam papers whilst a spring-cleaning sesh (that's some holiday) at
home
.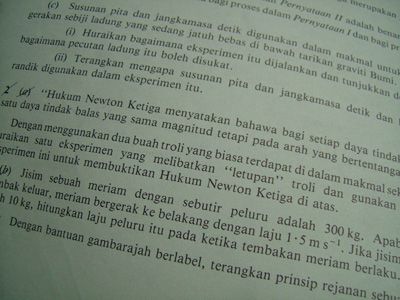 the answer to this question gets you a Gmail account (i think millions of people would have 'em by now, but what the heck):
which science subject taught in the pure science stream would these questions you see above come from?
the first
two people
person with the correct answer gets a Gmail account
each
. as usual, answers, along with email address, in the comment box below.
oh ya.
if you already have a Gmail address please don't bother.
:)
UPDATE
: since the answer is now known to all, and the person who answered the question correctly already have a Gmail address, i have a new question:
ANSWER QUESTION 2(b) IN THE SPM FIZIK PAPER ABOVE. SHOW HOW YOU COME TO THE ANSWER.
oh ya, do it in BM as well. hahaha.
[Jisim meriam + peluru = 300 kg, jisim peluru = 10 kg]