Eh, lapar lah! (Malaysian edition)
one of the main reasons of my coming home to malaysia:
makan
. everyone has their favourite eating spots. some would travel hundreds of kilometres to get their
nasi kandar
or
ikan bakar
fix. yes, i've heard the many stories. kl-ites travelling far across the city itself for, say, the ultimate
roti canai
brekkie. as for me, i just can't be bothered. i'm a resident of taman tun (
hidup ttdi!
). i have
all
i need here. like the
nasi lemak
at the bus stop behind the
sekolah menengah
.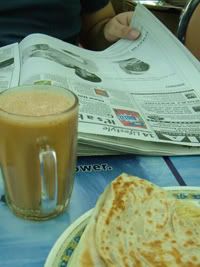 well, okay. anywhere within a three kilometre radius is considered near enough for lazy ol' me.
a perfect morning for me would be breakfast at
restoran mosin
, home of the
nasi buhara
. i've got mates who'd go for
sembahyang jumaat
at the ttdi mosque all the way from as far as bukit jalil, so as to increase their serum cholesterol levels. a morning paper,
teh tarik kurang manis
(that's actually quite
manis
) and
mutte' roti*
. i know. what's so special about a place like this? i know people swear to
roti
s at rajoo's in pj, for example, but when you frequent a place for years on end and the people know your name, give me this place any time! yes, i can get 'em to make my
roti garing
and
minyak
-free. why bother go drive and face morning pj traffic, when this place is only 5 minutes away from my house.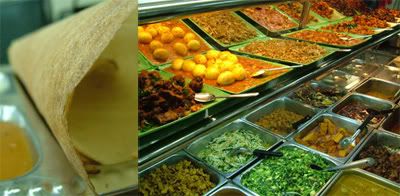 for
thosai garing
and
nasi daun pisang
,
jaipur
at tun mohd fuad is highly recommended. it is one of the cleanest eaterie i've ever been to; it even received a grade A in cleanliness from dbkl!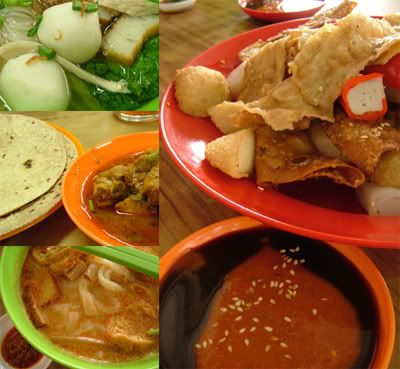 another way to make my mornings (or lunch time) perfect is
subang ria
in kj. i think everyone knows this place. as always, after touching down at klia, we'd drive down here immediately for
makan
. this has been my routine for the past 16 years, without fail (this place was on the way home from subang airport then). ah yee's penang-style
char kuey teow
is best eaten before office lunch hours, as the servings are slightly larger and fried a couple of minutes longer (your
kuey teow
will be fried in less than 2 minutes otherwise!). my favourites would also be the noodle soups (
mee hoon
soup or sometimes a permutation of other forms of noodles and soup/curry would do fine for me),
chapatti
and
yong tow foo
. as mentioned above, this is another place where saying the word "
biasa!"
would get us our drinks in no time at all.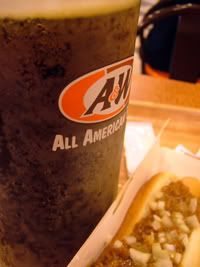 the only western fare that i'd go for in malaysia would be…
fast food joints!
like a kid, i look forward to
a&w
's large mug of ice cold
root beer
and their ever-diminishing-in-size coney dog (my dad says that it has like halved in size since the days of the papa/mama/baby burger in the 70's). used to enjoy my root beer at their 24-hour establishment near amcorp in pj, but with OU having almost every franchised eaterie known in kl, i don't have to look any further now. no a&w in the uk
lah
. as far as i can tell, the brits don't really drink root beer. those who've tried say that it tastes like cough medicine. their loss.
this is another item that is a must-have for me: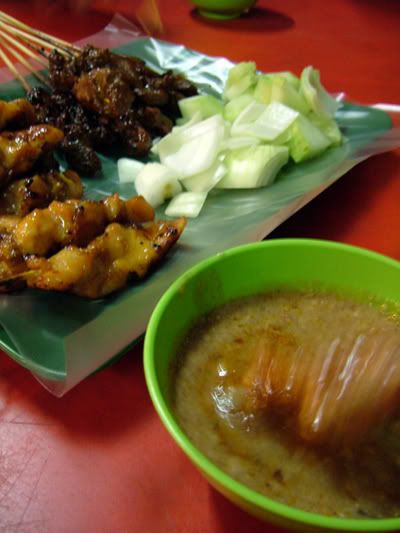 it must be my taste buds or something, but personally i just don't see much difference between kajang and non-kajang satay. my local satay haunt is behind the
pasar besar taman tun
next to
li
's
gerai nasi campur
. as far as i'm concerned, as long as the beef satay is succulent and
tak liat
, it gets my stamp of approval. kajang or whatever. if you ask me, the best satay that i've tried was satay endut in ipoh which i had many years ago. no
lemak
.
zhang!
li is a taman tun institution for the past 20 years. every evening you get a disorderly queue of people after work ordering their
nasi bungkus
dinner. li also does a mean
mee jawa
and
roti john
. and the four-ringgit
nasi lemak
and
ayam goreng
…
i like
.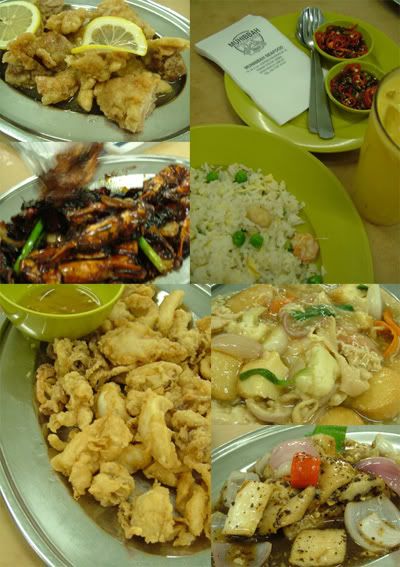 muhibbah seafood
is another of my favourite spot for dinner. noel's three-shop lot establishment started as a humble stall years ago at the aminuddin baki precinct. apparently, he used to be a hotel chef, which explains the scrumptiousness of his dishes. i have to say muhibbah used to be so much cheaper years ago, where RM30 would get you all the dishes you see in the photograph above. although a little pricier now, the food is still great. most of the dishes come in three platter sizes, most of which, like the deep-fried squid, mixed vegetable with japanese egg (
san kong
) tofu and lemon chicken, can never go wrong in my books.
well, of course, there is home-cooked food, but i'll give that a mention some other time!
*roti telur