Backawa! Backawa!
"That's no moon. It's a space station."

on monday evening, i bought the new star wars trilogy dvd, surprisingly for cheap at hmv (as opposed to my favourite store of much cheapness, play.com). seeing ultra-sharp images took my breathe away. ok, i don't have 6.1 speakers to fully enjoy the thx/dolby digital surround ex aural experience, but my decoder on the pioneer emulates the surround sound pretty much ok on my floorstanders.

i have heard rumours of new additions, namely on episode vi, but i didn't expect a few more surprises!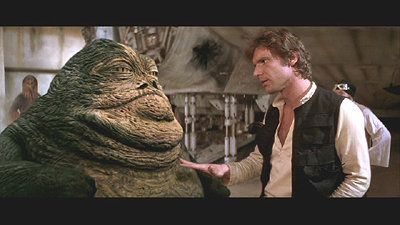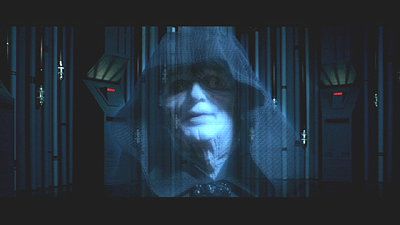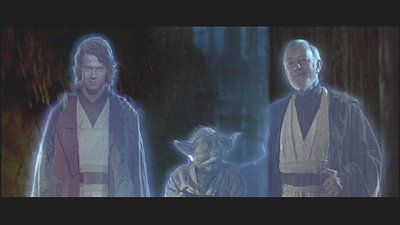 for the jedi geeks out there, go here to see more of the changes.

i enjoyed the audio commentaries as it gives one further insight on the making of the trilogy, albeit a little redundant if you had watched the fourth bonus making-of dvd. the snag was, the commentaries (george lucas, dennis muren, ben burtt and carrie fisher, with the addition of irvin kershner on episode v) could have been more spontaneous if they had recorded it together (like most multiple person commentaries) as opposed to recording it individually. it would've been better if they had commented on the little mistakes, like the stormtrooper hitting his head on the blast door and the badly dubbed vader still gesticulating to moff tarkin after finishing his lines! oh. oh. bib fortuna's huttese is also transcribed in episode vi's subtitles. es tosit!
(i can hear you people saying, "what a geek...")
the easter egg on disc four is worth checking out. for the likes of gamers out there, watch out for the making of the episode iii ps2/x-box lightsaberfest which will be out next spring!

my other grudge was that they didn't include the original releases in the dvd. i love the special editions (apart from sy snootles' backing singers and additional musicians), but the old ones would've been good to have for old times' sakes. anyway, this was well worth the 27-year wait. really. ok, back then i didn't know there would be dvd's by now. i was there in 1977, and i remembered vaguely the shitty trailer that i saw at cathay cinema, kl. it was star wars geekdom for me since then.

so, man your ships. get the dvd box set. and may the force be with you.

[photo credits: www.thedigitalbits.com]