The vinyl anorak
the advent of the ubiquitous compact discs in the 80's have led to the gradual extinction of the music cassette. cassettes used to be the main medium for music in my teens (by the way, i'm old enough to remember the 8-track cassette player that you have in cars!). i remembered the pirated tapes that would sell for $3 a piece at ampang park or wisma punca emas, most of which came in the form of compilations of top 10 american or uk chart-toppers. for the rock aficionado, it was the
apache
brand tapes which had bands like metallica, exodus and dio out in the local market. the originals were in fact non-existent for some of these bands, unless you had a record player.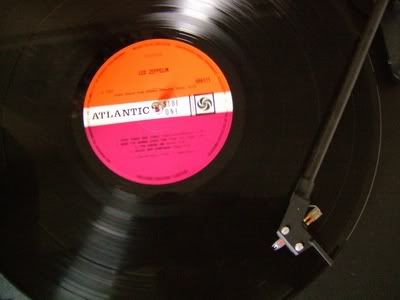 when i was doing my a-levels, i noted that the malaysian lln (now tnb) scholars in brighton were pretty much into buying turntables (no, not the
wikki wa wa wikki wa
types). besides, the uk top 40 charts were based on the sales of singles, which were pretty much in vinyl form, may it be 12 inch or 9 inch. i felt that vinyl records were cumbersome. imagine, a walkman wouldn't have been invented if it wasn't for the music cassette!
anyway, it wasn't until when i read an article in pearl jam's
synergy
that the band was intrigued by the
non-degradable
nature of vinyl, which led them to distributing the
ten club
x'mas 9-inch record single every year to their fan club members.
viva la vinyl!
i also remembered how warm the sound was, emanating from a vinyl record as opposed to the cold, clinical and precise sounds of a cd.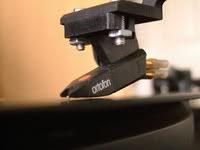 a couple of years ago, i decided to buy a turntable. it had been seven years since i last bought a hi-fi separates component. as usual,
what hifi?
mag was my guide and i found the perfect turntable. i wanted something cheap, yet stylishly simple. i also wanted a turntable that used a drive belt that is manually moved between the 45 rpm and 33 rpm speeds. i found that in the
pro-ject
debut. it costed me 5 p shy of £110, and it was hand-made in the czech republic. it's black, with only an on-off switch at one side, and has this cool anti-skate mechanism adjacent to the tone arm, which uses an ortofon stylus. nice.
it was from that day, i started to venture into the second hand record shops around sheffield on a weekly basis. with stuff coming in regularly into the shops, you'd never know what your next bargain would be. i also go to the occasional record fairs in pursuit of rare vinyl. i don't do this often, as i am not really that much of a collector. i'm quite proud of the collection i have now (about 115 of 'em, and slowly growing). most of them are stuff from that are pretty much pre-90's. i try to make a point of buying vinyl over cd, when it comes to purchasing an album of a vintage persuasion. the only really recent contemporary stuff is the entire pearl jam discography (with the exception of riot act and lost dogs!).
i do try to get the classics. sometimes there are the occasional
limau
. some of them are even genuine 60's or 70's pressings. i tend to go for the british pressings, as the european ones tend to sound not as good. all my
hendrix
are british, apart from
are you experienced?
which is german and sounds pretty harsh and distorted. this pic here pretty much sums up the pride of my collection.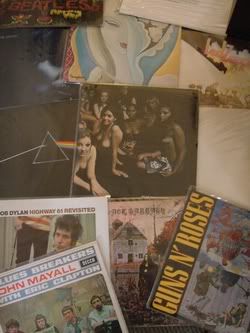 the beatles.

sgt pepper's lonely hearts club band.
1967 parlophone/emi records ltd
this was a 2nd pressing, 1969 i think. noted on the back:
this is a stereo recording. a splendid time is guaranteed for all
.
bb king.

live at the regal.



1971 abc records
i paid like £20 for it, although i think this is a recent-ish reissue. bb king performing in the ghetto of chicago, basically one of his best live recordings.
joni mitchell.

blue.
1971 reprise records
i first heard
river
on
vh-1
, performed by travis. post-divorce, this was one of joni's best.
derek and the dominos.

layla and other assorted love songs.



1970 polydor records
recorded by a drug and booze-addled eric clapton with help from some friends. just look at the pics of EC. wasted as hell! with
bell bottom blues
and
layla
, you can never go wrong with this one.
led zeppelin.

II.
1969 atlantic records
this one was a 1970 pressing. produced by jimmy page, this one gives you
heartbreaker
and
whole lotta love
.
pink floyd.

dark side of the moon.
1973 emi records ltd
a real no-brainer. this is the floyd album to own. this one was actually just a reissue (the original vintage wouldn't have a bar code, would it?), came with a poster with the pink pyramids. roger waters' exceptional genius coupled with the great voice and guitar playing that is david gilmour. this was in the album charts for more than 200 weeks or something. go figure.
the jimi hendrix experience.

electric ladyland.
1968 polydor records
my favourite. a second pressing. the original cover with the
nekkid
women. the stereo on this throws you off. really. left, right, left, right… this is the reason why god only allows such genius to be on the face of the earth for such a short time.
the beatles.

the white album.
1968 apple records/emi records ltd
absolute class. 'nuff said.
bob dylan.
highway 61 revisited.
1965 columbia records
a reissue. bob's first foray into the world of the electric guitar much to the horror of the 1960's acoustic folk enthusiast.
black sabbath.

black sabbath.
1970 vertigo
proto-heavy metal. a sabbath recording has to be on vertigo, and not on some reissue crap. this one's the original first pressing. the I-bV phrasing spawned a multitude of bands that swear by
diabolus in musica
.
guns 'n' roses.

appetite for destruction.
1987 geffen records
the one with the banned robert williams' artwork on the cover (the current albums have this pic in the inside). sleazy r 'n' r, marking the death of hair metal. also the reason for the hiked up prices of the gibson les paul.
john mayall with eric clapton.

bluesbreakers.



1966 decca
this was an original stereo pressing of the eponymous
beano
album. the mono ones cost more, i think. a bunch of white guys playing the blues. to think that the blues made a 'comeback' in the 'states in the 60's because of a bunch of white british guys. ironic, innit?