Three sticks. Wanna play?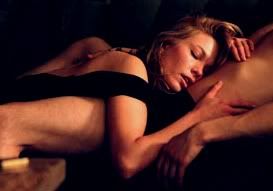 caught the latter half of adrian lyne's
unfaithful
a couple of nights ago on the telly. just a standard, a little formulaic fare on the topic of infidelity. firstly, this ain't a
critique
of one of lyne's many analyses of the man-woman relationship (
lolita
,
indecent proposal
and
fatal attraction
, to name a few). i have to say this movie had some of the best shagging scenes in mainstream cinema! and yes, diane lane was simply... incendiary. :)
it had me thinking soon after about the subject of infidelity. why do people do it? we've heard it all.
(s)he not treating me right, i'm fed up, i cannot stand it anymore
. do all these reasons make infidelity okay, though? people just can't/don't communicate anymore to sort things out. one side plays safe to avoid hurting the feelings of the other. is it worth 'playing safe'? cheating would only end disastrously for all involved anyway.
in the movie, neither husband nor wife were unhappy with the lives they're leading. a house in a suburbs. a son. why did she cheat on him? these things are complex, i agree. lane's character's heart was torn between her desires (even when it is clearly wrong) and her love of her family. easier said than done perhaps, but i felt the choice was obvious. yet the bonk-fest with her newly-found french book dealer continued. was it really worth it?
the term
gatai p***
(
p****
for blokes) coinned by my good mate, don, comes to mind after watching the film.
be happy with your loved one. if you aren't, bloody go sort it out (why the hell did you hook up with him/her in the first place, if you don't wanna?)!!!