Tap dancing shinto peasants
i'm having my second
teh tarik
, reeling from the baz luhrmann-esque ending in a movie i just saw. a
jidai geki
samurai film. you'd probably think kurosawa is on high spin, in a grave somewhere in japan.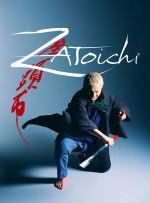 i finally decided to check out 'beat' takeshi kitano's
zatoichi
. i need a
katana
slasher fix. besides, it's been
quoted
as a renaissance of asian cinema. i can't help being facetious. it's unfair, i know. probably my only reference to samurai flicks are the handful of kurosawa's black and whites (and two technicolors) that i have on my shelf. i haven't seen any of kitano's other works (
sonatine
and
violent cop
, to name two). the quirkiness of the peasant segments (the peasant farmers working in time to keiichi suzuki's soundtrack, for example) in the film were clever. bizarre for
jidai geki
, but still clever.
the movie is based on a short story by kan shimozawa, but i can't help noticing similarities to kurosawa in many aspects. i suppose if you set a story based on japan's tumultuous history, you expect similarities. the village having several
yakuza
gangs and the
ronin
hattori looking for a lord to work for as a bodyguard (
yojimbo
) were reminiscent of
yojimbo
and
sanjuro
. the bullying of peasant farmers was somewhat similar to the issues dealt with in
seven samurai
. kitano admits that the swordfight scene in the rain was a homage to kurosawa anyway.
[spoiler warning!]
the plot with respect to the redemption of the two geishas, osei and okinu, evoked that of the young vito corleone in coppola's
the godfather part two
.
zatoichi
himself was an enigma as we do not get to know who he really is or where he came from. in the midst of the violence and sprays of blood, was some comic relief provided by guadalcanal(!) taka's character of the gambling idiot, shinkichi. one thing that irked me was hattori's indiscriminate loyalty to his greedy
yakuza
employers that led to his and his ailing young wife's demise. the story was good but at times, a little dragging, especially with the apparent randomness of the flashbacks, albeit pivotal to the telling of the story. i personally wasn't too impressed with the modern soundtrack, although such idiosyncracies were also evident in the swinging 60's trumpet-y soundtrack by masaru sato in kurosawa'a
yojimbo
(
tunchakchak tunchakchak tunchakchak PARAPP PARAPP!
). for the cherry on top of the cake's icing, a bollywood/moulin rouge-like tap dance sequence as a parting shot. talk about fusion of cultures. hey, it's art (remember lat's
art is anything
cartoon?). the film did win awards at the venice and toronto film festivals last year, and had rave reviews by critics alike.
my next kitano fix will probably be one of his
yakuza
dvd's. i just hope he doesn't put in a parissiene revue in the middle of a gunfight scene!