The star-spangled banner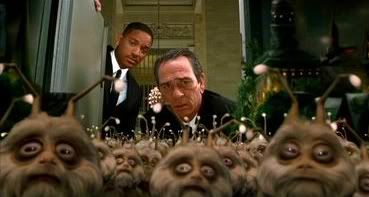 "The keeper of the light!
All hail K!
All hail K!
All hail K can you see...
By the dawn's early light..."
that was my favourite scene in MIIB (
sky movies
is doing a will smith week in conjunction with
i, robot
in the cinemas) where a bunch of furry miniscule aliens live in a town located within a locker(!), basically had me rolling on the sofa laughing. the movie was otherwise not
that
funny. ok. the pug singing a canine rendition of
i will survive
was. that's about it!
WANTED: does anyone know where to find a picture of the grand central station locker aliens? i found nowt in google.