Stabbed with a fork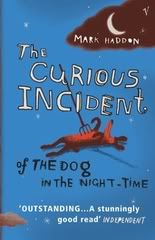 last night, i was frantically trying to finish preparing a joint presentation for the trainee docs in gynaecology.
not.
i procrastinated my reading just to finish this offbeat book by mark haddon. hell, this was probably the second book ever that i finished in record time (hey, three days is quick by my standards; my record was four hours reading syed husin ali's
two faces
in 1997).
haddon's
curious
would have just been an unremarkable story about a teen investigating a canine's murder and his relationship with his dad, if not for the fact that christopher, the protagonist, has
asperger's
syndrome. asperger's is a form of autism. for one, they don't suffer from linguistic difficulties. they can appear emotionally detached, they take EVERYthing literally (the neon... don't you bloody start!) and they perceive everything in a logical (is mr. spock autistic?) manner; hence, making them brilliant mathematicians. in short, whilst he can solve complex algebra, christopher is unable to even to comprehend abstract concepts we take for granted, like god and emotions.
to add to the making of an excellent read, the story is told from christopher's point of view.
you are then treated to long, unpunctuated (*wink*) sentences explaining simply anything and everything. the chapters are numbered by prime numbers (
n
=2,3,5,7...). you get to see maps of places that he'd draw from memory. you'll be intrigued by his ambitions to be an astronaut and his profound knowledge in pure maths and theoretical physics. this was such a captivating read. certain aspect's of christopher's life slowly unfolds as he ventured deeper into finding out why wellington the poodle had a garden fork stuck in him that night.
highly recommended.
[credits to
ash
for the recommendation!]