Rebung masak lemak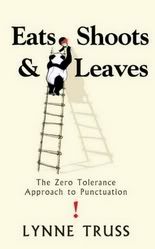 i am a
histopathologist
by profession. in my line of work, i write reports. loads of 'em. reports that are meant for the clinician to read (if they read it) for the benefit of their patients, of course. it wasn't until i started training in histopathology, i began to immerse myself in the world of pedantry and semantics. in this increasingly litigious society nowadays, a pathology report has become more of a medicolegal document. be careful of what you write, it may come to haunt you ten years down the line if the case goes to court due to a fuckup!
i am not a pedant. a little OCD, perhaps (watch for the neon to pounce). when i check my reports prior to having it released, i make sure i dot the lower case j's and cross the t's, and have appropriate commas and punctuations. the wrongly placed comma can potentially alter the context of a sentence! this is where this book with the panda on its cover comes in. i bought it a month ago after seeing the clever title. the story of a panda in a restaurant (not!), but i felt it'll be quite interesting to see the views of the author on the correct use of punctuations. as well as getting a couple of laughs along the way.
the comma is the single most misused punctuation in my opinion, and this was reiterated by truss. imagine using a comma in the place of an apostrophe. a glaring error but this was noted on signs hanging in shops! in the later chapters (each dedicated roughly to a single punctuation mark) were pretty much educational, like the usage of semi-colons and colons in sentences (as opposed to bullet point lists). i'm glad that along the way in my working life, i have used some of them pretty much in the correct manner.
i suppose i do draw a line somewhere. heck no do i punctuate in my text messages or emails. truss was also pontificating on the usage of emoticons. if only she can see some of the emoticons i've seen (involving :P and (I)...
go figure!
). also, i don't really feel like telling someone, "there should be a comma there... and by the way, it's spelt..." (although i'd be like, "what the hell is that? and you are supposed to be this erudite/eloquent so-and-so... git!", if i see even the slightest mistake). i know. it's not right, but i do re-edit my entries like a gazillion times even after publishing. by the way, i don't have broadband. you do the maths!
life's too short to be too worked up about these things, but at least i now know that (...) is called an
ellipsis
.
woooOOOooo
.
[
note
: i am not awarding any prizes if you note a wrongly-placed hyphen or any other grammatical errors in this (or any other of my entries) entry!]