Eh, lapar lah! (part VIII)
ok. it's time to go outdoors. weather today is as great as it was yesterday. meeting up with a mate at the upper derwent valley for sunday pub lunch. actually, my roast beef days (
ahem
) are over for some time. so, it'll just have to be fish for me today. hehe.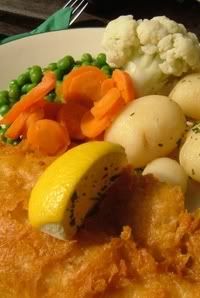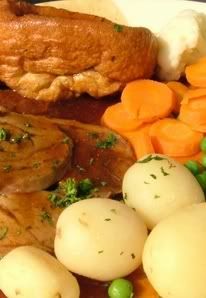 we had our lunch at the
yorkshire bridge
, the first pub on the A6013 to bamford. the weather was too good to pass for having lunch indoors. lucky enough to grab a seat outside as the place was pretty busy. the thing is in britain, people do drive a long way out into the countryside for a great sunday lunch. in my experience, it's these out-of-town public houses that serve the best roast! the kitchen had a great menu which included swordfish in provencale sauce and ostrich steak. i opted for the deep-fried grimsby haddock with new potatoes and vegetables (posh fish 'n' chips) while my friend had the roast leg of lamb with the usual trimmings of yorkshire pudding, new potatoes and vegetables. good food takes time. so while waiting for our order, i had myself some ice cold J2O orange and passionfruit. it was just perfect.
later on, we had a little walkabout at
ladybower
reservoir, taking some
shots
of the scenery. the upper derwent valley in derbyshire basically supplies water for the whole of the east midlands. the were quite a few people out on their mountain bikes, as well as just out on the grass with their picnic basket, basking in the summer sun. to top it off, a summer's day out ain't complete with ice cream in a cone with a cadbury's 99 flake!
woohoo!
i'd say it was well worth the 15 mile drive to the peaks!