A classic scene
after seeing this little tiff between the neon and king kiasu in the shoutbox, i immediately thought of this conversation.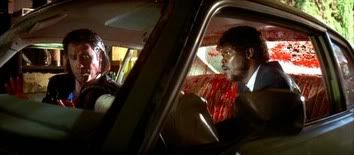 Vincent Vega : I got a threshold, Jules. I got a threshold for the abuse I'll take. And right now I'm a race car and you got me in the red. I'm just saying that it's fuckin' dangerous to have a racecar in the fuckin' red. It could blow.

Jules : Oh, you're gettin' ready to blow?

Vincent : I could blow.

Jules : Well I'm a mushroom-cloud-layin' motherfucker, motherfucker! Every time my fingers touch brain I'm "SUPERFLY T.N.T", I'm the "GUNS OF THE NAVARONE". In fact, what the fuck am I doin' in the back? You're the motherfucker should be on brain detail. We're fuckin' switchin' right now. I'm washin' the windows and you're pickin' up this nigger's skull.