Rock the casbah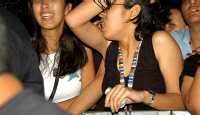 i didn't go to the incubus gig in bukit kiara, but i knew such a sight as aptly describedly below by their frontman, brandon boyd, was pretty much not surprising. this is what he had to say, on the release of the official bootleg cd (an oxymoron perpetuated initially by the
great
pearl jam) of the said kl gig:
"This show will always stand out in my mind as one of the more unique concerts we've played. I can't even remember a show that I've been to that offered such rarities on an experiential level. The audience was one of the more animated that we had ever seen and proved to be so until the last note of our set.

I'll never forget seeing all the girls in the crowd with their veils over their heads and dancing as hard as their Chuck Taylors would allow!

It was a cultural paradox at it's finest! We'll never forget Malaysia! Thanks."

pengsan pak aji mendengar!
:)