Careful with that axe, Eugene (part VIII)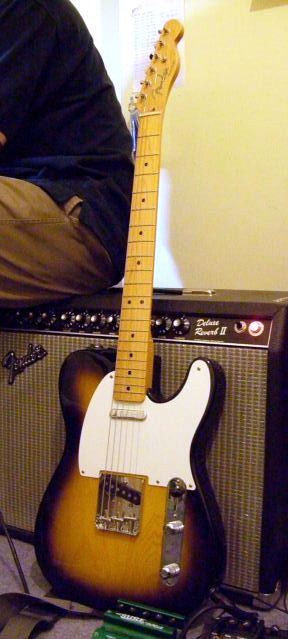 the fender telecaster. the workhorse of many a band. or guitarist. muddy waters. bruce springsteen. david gilmour. jonny greenwood. prince (
erk
). even the slipknot guys now use a hot-rodded version. mine is the 50's classic one, made at the ensenada factory (don't get me
started
on mexican fenders). the price was a steal, at this place in
castleford
. it was funny as i was wandering around birmingham, hoping to find the tele of my dreams, i found nothing that i took a liking to. everything was too overpriced or even if it was cheap, it was the tele standard (nope, not this time for me). after coming home following a fruitless search, i found this two-toned sunburst on the net. going for cheap. no marks, nothing. first-hand.
got off work early as it was a bit of a drive to get to the place. as usual, i could manage a couple of meaningless riffs and pseudo-blues licks, with the tele plugged to a marshall
avt100
.
only for five minutes
as i was the only person in the vast warehouse-like shop, apart from the owner and his german shepherd. *very shy, one*
this guitar is twangy. it's a tele, with a beautifully finished maple fingerboard to boot. what do you expect. but wait. the tone knob allows you to vary its tone so subtly that you can make her sing like anything you want it to be. coupled with the volume knob, the overdriven tones can be altered from muddy to the sublime. hook it up to the gt-3, step on the mesa dual rect patch, it's metal mayhem! it doesn't look the part, but hey, it rocks (the only thing is that it doesn't work
the other way
, i.e. jazz music played with a bc rich warlock). the body is made of solid ash. the hardware is vintage 1950's style, with the three-saddled bridge and kluson machine heads. i could put an
ashtray
bridge cover if i wanted as well.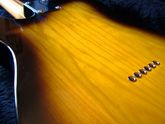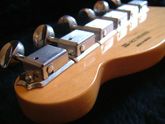 i've used to it to record on this blues track with the neon. not gigged yet. december? january? blue planet, mr.
lamson radius
king kiasu?
tsk
. it looks like that this is my last entry in the series. although, the possiblity of a sequel remains, eh?