Careful with that axe, Eugene (part III)
in 1996, my epi strat copy was holed up in kl. and after a 3-year hiatus, my interest in guitar playing was rekindled. fortuitously (and excellent timing, too), i saw this three-tone
squier
stratocaster at sounds live in newcastle.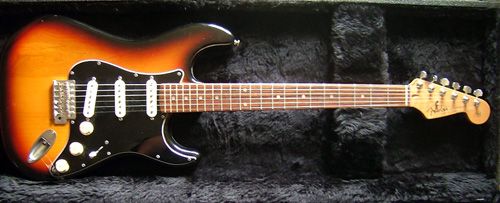 it was a 1996 make which means it has the fender 50 year anniversary mark at the back of its headstock. fell in love with it straight away. the neck felt really good for a budget strat and its clean tones were glassy enough. it gigged for the first time with s.o.c. at the unl gig in 1998. thereafter, it went through a complete makeover. pickups were hotrodded, again, with seymour duncans (a
duncan custom
at the bridge and two vintage staggered for the middle and neck). to top it off, the guys at sheffield (namely at 27 filey street) had a 'fender factory', where we converted squiers into fenders!
[
disclaimer
: in no way were we making fake fender instruments for profit. at that point in time, we were merely too impoverished to afford quality instruments by fender!]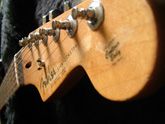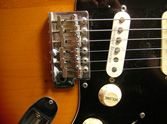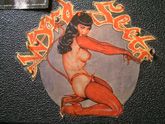 with some aged pickup covers and a black pickguard, the strat was then transformed into what you see now. i call it my '54 strat' although some of my friends begged to differ (thus the moniker '
xingxiao
strat'!). the revamped strat didn't get gigged way until 2002, at the
malam temasya pria mambo 2
gig in sheffield.